Zelensky finds excuse to reject Christmas ceasefire
Ukraine's leader accused Moscow of using the Orthodox holiday as a battlefield ruse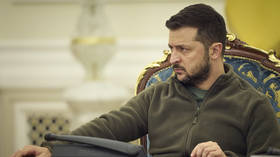 Ukrainian President Vladimir Zelensky said on Thursday that the Christmas cessation of hostilities offered by Russia was merely a ruse to improve Moscow's standing on the battlefield, calling on Russians to overthrow their government instead.
In a video message to Ukrainians, Zelensky said he had offered a "peace plan" to Moscow in December, starting with the withdrawal of all Russian troops from territories claimed by Kiev.
"Now they want to use Christmas as cover, to stop the advance of our boys in Donbass for a bit and bring up their equipment, ammunition and mobilized [troops] to the front," Zelensky said, claiming this will only result in more Russian casualties.
Kiev's troops have made no advances in Donbass for the past several weeks. The few reports coming from the embattled city of Bakhmut/Artyomovsk speak of high casualties among Ukrainian soldiers.
"Everyone in the world knows how the Kremlin uses ceasefires to continue the war with renewed vigor," Zelensky said in the video message. What is needed for the conflict to end, he argued, is to overthrow President Vladimir Putin.
Prior to Zelensky's statement, his aides rejected any notion of a ceasefire. Foreign Minister Dmitry Kuleba said the proposal "cannot and should not be taken seriously." Aleksey Danilov, the head of the National Security and Defense Council of Ukraine, dismissed any ceasefire as "lies and hypocrisy," while Zelensky adviser Mikhail Podoliak called it "a cynical trap and an element of propaganda."
Patriarch Kirill, the head of the Russian Orthodox Church, had requested a 36-hour cessation of hostilities starting at noon local time on Friday. Christmas Day falls on January 7 in the Julian calendar, which is used for liturgical scheduling by the churches in Russia and Ukraine.
You can share this story on social media: