UK mulls unprecedented arms supplies to Ukraine – Sky News
London is reportedly considering sending tanks to Kiev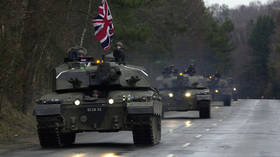 Britain may soon announce a delivery of ten Challenger II tanks to Kiev, Sky News has reported, citing both Ukrainian and UK sources. While symbolic, the first-ever delivery of Western-made battle tanks is meant to encourage the US and Germany to do the same, the outlet added.
PM Rishi Sunak's government has been discussing the possibility for "a few weeks," according to the outlet, which suggested some kind of official announcement might be made on January 20, when the US-led 'Contact Group' for arming Ukraine is scheduled to meet.
One source said the UK "might offer around ten" tanks, described as "enough to equip a squadron." While nowhere near enough to turn the tide of the conflict, the move could push other Western countries over the line they have been unwilling to cross up to now. France, the US and Germany have pledged increasingly heavier weaponry to Ukraine, but drew the line at sending main battle tanks, which Kiev is desperate for.
"It will be a good precedent to demonstrate [to] others – to Germany first of all, with their Leopards… and Abrams from the United States," a Ukrainian source told Sky.
Ukrainian Defense Minister Aleksey Reznikov laid out this very tactic to the US outlet Politico last October. Last week, Reznikov told Ukrainian TV that his country is "carrying out NATO's mission" by shedding blood, so it is the West's responsibility to provide the weapons.
Russian Defense Minister Sergey Shoigu said in December that Moscow wasn't fighting the Ukrainian military so much as the entire West, noting that Kiev had received around $97 billion in military aid in 2022. Russia has repeatedly warned the West that this is only prolonging the conflict and may escalate into direct confrontation. The US and its allies have insisted they are not involved, but continued ramping up weapons shipments to Ukraine.
Last month, Ukraine's top general told The Economist that his army needed at least 300 tanks and 700 infantry fighting vehicles. As of August 2020 – when it was rumored the entire armored corps might be scrapped as "obsolete" – the British Army had around 220 Challengers and 388 Warrior IFVs.
The BBC reported in mid-December that Sunak was looking for an audit of all the aid the UK had sent to Ukraine, citing anonymous sources inside Whitehall who were working with Kiev.
The British defense ministry would neither confirm nor deny the Sky News report about the tanks, only confirming that they have provided "over 200" armored vehicles to Ukraine so far. However, reports of pending weapons shipments are routinely leaked to the media. US outlets talked about the dispatch of Bradley IFVs a week before President Joe Biden confirmed it in a passing comment. The official announcement came just a day later.
You can share this story on social media: