Ukraine on 'NATO mission' – defense minister
Aleksey Reznikov has argued that Kiev is shedding blood for the military bloc and expects weapons in return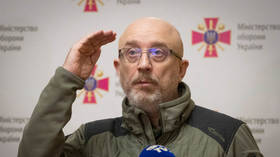 Kiev is shedding blood to carry out the mission NATO set for itself and expects the "civilized West" to provide weapons and ammunition in return, Ukrainian Defense Minister Aleksey Reznikov has said in an interview for a domestic TV channel.
Appearing on the 1+1 network's TSN channel on Thursday evening, Reznikov pointed out that at the Madrid summit last summer, NATO declared Russia the greatest threat to the US-led bloc.
"Today, Ukraine is addressing that threat. We're carrying out NATO's mission today, without shedding their blood. We shed our blood, so we expect them to provide weapons," he said.
Reznikov also claimed that his NATO colleagues have told him, both in conversations and via text messages, that Ukraine is the "shield of civilization" and "defending the entire civilized world, the entire West."
Ukrainian officials, from President Vladimir Zelensky down, routinely make public appeals for tanks, missiles, artillery and ammunition. Russian Defense Minister Sergey Shoigu told the General Staff in December that Moscow was de facto fighting the collective West. By his estimates, the government in Kiev has received almost $100 billion worth of weapons, ammunition and other supplies in 2022 alone.
Reznikov has led that effort, boasting to the US outlet Politico in October that he had figured out the Pentagon's political process. His goal, he said, was to keep raising the bar until Ukraine received main battle tanks.
While that particular threshold has yet to be crossed, on Friday Washington announced the delivery of 50 Bradley infantry fighting vehicles, the most modern armor sent to Kiev so far, as part of a $3 billion weapons package. Earlier this week, France pledged a number of wheeled 'light tanks' as well.
These shipments are intended to replace Ukraine's battlefield losses. Last month, Kiev's top general Valery Zaluzhny told The Economist he would need 300 more tanks, up to 700 infantry fighting vehicles, and 500 howitzers to conduct offensive operations. This is more than the number of such vehicles in British or German inventory.
Moscow insists that Western weapon deliveries only serve to prolong the conflict, and has repeatedly warned Ukraine's backers that this could result in an all-out military confrontation between Russia and NATO.
You can share this story on social media: