France promises old 'light tanks' for Ukraine
Paris says it's set to supply Kiev with AMX-10 armored fighting vehicles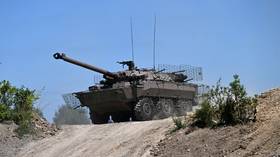 Paris will transfer its domestically-made AMX-10 'light tanks' to Ukraine, a government spokesperson said on Wednesday.
News of the transfer was broken by Ukrainian President Vladimir Zelensky, who wrote on Twitter that he had "a long and detailed conversation" with French President Emmanuel Macron. Zelensky added that he had thanked Macron for "his decision to transfer light tanks" to Ukraine, and for lobbying France's allies to do the same.
Zelensky's announcement was confirmed by an aide to Macron. The official did not state how many of the vehicles would be sent or when, but declared that it was "the first time that Western-designed tanks are supplied to the Ukrainian armed forces," according to a report by AFP.
France will also donate an unspecified number of Bastion armored personnel carriers, which have been in service with its military since 2012.
Ukraine has already received stockpiled Soviet-era tanks from Eastern European armories, most notably hundreds of T-72 main battle tanks from Poland and the Czech Republic. While the US has pledged to replace these tanks with American models, neither the Pentagon nor any other NATO defense ministry has given Ukraine Western-made tanks.
Fielded by France since 1981, the AMX-10 is a lightweight, six-wheeled armored fighting vehicle developed by the country's government-owned GIAT Industries and its successor company, Nexter Systems.
With the French military currently switching EBRC Jaguar armored vehicles, the official described the AMX-10s as "very mobile ... perhaps old but high-performance."
A recent poll found that the French public overwhelmingly favors a negotiated settlement to the Ukrainian conflict. Macron has paid lip service to this sentiment on several occasions, publicly stating that the Western powers should not seek to "annihilate" Russia, and should provide Moscow with security guarantees once the conflict eventually ends.
Nevertheless, France has continued to send increasingly heavier arms shipments to Ukraine. Kiev's forces received French-made Caesar self-propelled artillery guns earlier this summer, which were allegedly used in an attack in December on a Donetsk hotel that injured Dmitry Rogozin, the former head of Russian space agency Roscosmos.
Russia has repeatedly warned the West against arming Kiev, saying that doing so will prolong the conflict and risks making Western nations de-facto participants.
You can share this story on social media: