Ex-Russian space boss sends shrapnel to French ambassador
Dmitry Rogozin is believed to have been wounded in Donetsk by a French-supplied Caesar self-propelled gun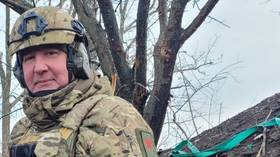 The former head of Russia's space agency, Roscosmos, Dmitry Rogozin, who was injured in a Ukrainian strike in Donbass, says he has sent a piece of shrapnel removed from his body and a letter to the French ambassador in Moscow.
Rogozin was wounded in the Russian city of Donetsk on December 21, when the hotel where he was staying came under artillery attack. Russia's Investigative Committee claims that Kiev's forces used French-made Caesar self-propelled howitzers, which Paris supplied to Ukraine, to carry out the attack.
The former space boss said he was wounded in the right shoulder with shrapnel which landed "a millimeter" away from his spine. Local medical personnel could not extract the fragment, and Rogozin was transported to Moscow, where he underwent surgery before New Year's.
On Wednesday, Rogozin told the media that the piece of metal removed from his body was sent to the French envoy in Moscow, Pierre Levy, along with a letter.
"You probably know how many civilians were killed in Donetsk and the frontline cities by French weapons and French mercenaries. It's hundreds of people, including children," the letter reads.
Rogozin, who was in Donbass leading the 'Tsar Wolves', a group of volunteer military advisers, said he hopes that Levy understands the extent of his personal responsibility for these deaths.
"As for the piece of shrapnel that the surgeons cut out from my spine, I ask you to pass it on to French President Emmanuel Macron. And also tell him that no one will escape responsibility for the war crimes of France, the US, UK, Germany and other NATO countries in Donbass," he wrote.
The strike on the hotel in Donetsk killed two people, with several others wounded, including the prime minister of the Donetsk People's Republic, Vitaly Khotsenko. Those killed were officers from the Tsar Wolves, Rogozin confirmed, adding that some members of his group were also gravely wounded.
The former space boss, who was once deputy PM and Russia's envoy to NATO, promised to return to the frontline later this month and continue assisting those taking part in Moscow's military operation in Ukraine.
You can share this story on social media: