German MP warns against 'unimaginable escalation'
Berlin will continue to support Kiev but will not risk becoming a party to the conflict with Russia, a lawmaker has said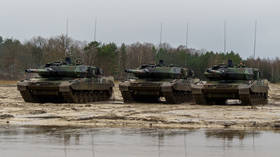 Berlin has no plans to send modern Western-made tanks to Ukraine, as the risks involved are too high, a German lawmaker said on Monday. Such a move could make NATO a direct party to the conflict between Moscow and Kiev and lead to an escalation, Michael Mueller told Germany's ARD broadcaster.
Berlin will continue to refrain from any "ill-considered unilateral moves," Mueller, who is a member of the German Bundestag's Foreign Policy Committee, told ARD's Morganmagazin show.
"We would only deliver such weapons in coordination with our NATO partners," he said, adding that the military bloc wants to avoid becoming a direct party to the Russia-Ukraine conflict.
"That would be in the interests of all of us… If NATO became a direct war party against Russia, it would be an escalation that none of us want to imagine," Mueller, a member of Chancellor Olaf Scholz's Social Democratic Party (SPD), warned.
No other nations who possess "comparable" military hardware – including the US and France – have supplied them to Ukraine, Mueller pointed out, adding that those countries appear to share Germany's concerns.
The lawmaker also said that dialogue with Russia should be maintained. "There should always be an offer to talk," he argued, criticizing his party's coalition partners – the Greens and the Free Democrats – for failing to understand that.
Mueller said Chancellor Scholz is now the only leader who continues to seek such contacts, adding that the Foreign Ministry should also look for options for dialogue.
Scholz has previously repeatedly said that resolving the conflict between Russia and Ukraine would be much harder without dialogue with Moscow. Foreign Minister Annalena Baerbock, on the contrary, has taken a staunch anti-Russia position, vowing to ramp up sanctions against Moscow and stating that "normal relations" with the Kremlin are out of the question.
You can share this story on social media: