Germany isn't ruling out sending tanks to Ukraine – vice-chancellor
A government spokesperson, however, says currently there is no such plan on the cards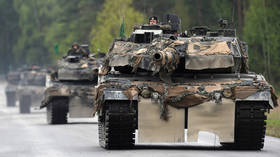 Berlin cannot rule out sending German Leopard main battle tanks to Kiev amid its conflict with Moscow, Vice-Chancellor and Economy Minister Robert Habeck has said. His statement followed the voicing of a similar opinion by two high-ranking officials.
Last week, Germany announced the delivery to Kiev of 40 Marder infantry fighting vehicles and a US-made Patriot air defense battery. But the government of Chancellor Olaf Scholz has been under pressure from Ukraine, and politicians at home and elsewhere in the EU, to also introduce Leopard tanks into its military aid packages.
In an interview with broadcaster ARD1 on Sunday, Habeck suggested that Berlin could well give in to this pressure.
"We're always following the situation [in Ukraine]; we coordinate with other countries. And, within this corridor, further decisions are also being made. That means: No, of course, this is not excluded," the Green politician said, when asked about the possibility of sending heavy armor to Ukraine.
Habeck described the decision to provide Marders to the Zelensky government as "good" and "long overdue." Germany has already supplied a lot of various weapons to Ukraine since the outbreak of the conflict last February and "this dynamic will continue" as long as the conflict continues, the vice-chancellor said.
Green party colleague and Bundestag Vice-President Katrin Göring-Eckardt, backed Habeck, telling local media that Germany shouldn't stop at the promise of sending infantry fighting vehicles to Ukraine. "We must deliver everything possible. This also includes Leopard tanks," Göring-Eckardt said. Bundestag vice president and FDP member Wolfgang Kubicki has voiced a similar stance, Deutsche Welle reported on Monday.
However, there appears to be no unity among the ruling circles in Berlin on the issue of the supply of the 70-ton tanks to Kiev. On Monday, government spokesman Steffen Hebestreit announced that Germany "currently has no intentions to deliver Leopard 2 tanks to Ukraine."
Hebestreit also said that he was unaware of any other NATO members planning to deliver the German-made tanks to Ukraine, adding that any country willing to do so would require a license from Berlin.
Moscow has long decried the supply of weapons to Kiev by Western nations, including Germany, arguing that it only prolongs the fighting and increases the risk of a direct confrontation between Russia and NATO.
You can share this story on social media: