Ukraine's 'high hopes' for F-16s dashed
Top US military officials have said the aircraft transfer could take years to complete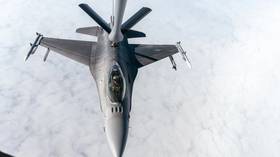 Ukraine should not expect to receive American F-16 fighter jets until sometime in 2024, a Ukrainian Air Force spokesman has said, noting that Kiev's "high hopes" for the system were unlikely to be met anytime soon.
Speaking to reporters on Wednesday, Air Force Command representative Yury Ignat suggested the timeline for the arms transfer was still to be decided, but said Kiev would have to make do through the end of the year.
"Unfortunately, it is already clear that we will not be able to protect Ukraine with F-16s throughout the fall and this winter," he said. "There were high hopes for these aircraft, that these could really become part of the air defense."
Officials in Kiev have repeatedly requested the F-16 by name, and while some NATO states have agreed to instruct Ukrainian airmen on the system, it remains unclear when the first transfer could occur. To date, no country has made any concrete proposal, and US Chairman of the Joint Chiefs of Staff Mark Milley said last month that it could take years to provide Ukraine with a meaningful capability.
"Just do a quick math drill here. Ten F-16s are $2 billion," Milley told reporters at the time, attempting to explain the delay. "The Russians have hundreds of fourth- and fifth-generation airframes, so if they're going to try to match the Russians one for one – or even, you know, two-to-one – you're talking about a large number of aircraft."
According to a recent report in the Washington Post, the initial batch of Ukrainian pilots trained on the F-16 will not be ready until after the summer of 2024, with only six airmen set to complete the first round of instruction. Officials cited by the outlet said each pilot will have to take four months in English courses before they can even begin flight training.
Moscow has repeatedly warned against foreign arms shipments to Kiev, arguing the military aid would only extend the conflict and do little to deter its objectives. Earlier this year, the Kremlin said Western powers would run "colossal risks" if they decided to supply the F-16, while Foreign Minister Sergey Lavrov said Russia would consider the aircraft a nuclear threat due to its ability to carry atomic weapons.
"We will regard the very fact that the Ukrainian armed forces have such systems as a threat from the West in the nuclear sphere," the diplomat said.
You can share this story on social media: