Ukraine will receive F-16s – White House
The fighters will come from European countries that have an "excess," Jake Sullivan has said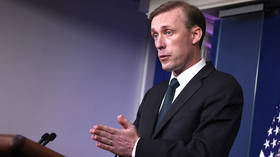 Kiev will "likely" get F-16 fighter jets from Washington's allies in Europe who may have some to spare, US National Security Advisor Jake Sullivan said on Wednesday. While many NATO countries have offered to train Ukrainian pilots, so far none have pledged to send actual airplanes.
"On the F-16 fighter jets, President [Joe] Biden took the decision some weeks ago, working in close consultation with allies, to begin the training of Ukrainian pilots on those jets," Sullivan told Good Morning America host George Stephanopoulos from Vilnius, Lithuania, where he is attending the NATO summit.
"That training will take some time, and then there will be the transfer of F-16s, likely from European countries that have excess F-16 supplies," Sullivan added.
The fighter jet was designed in the 1970s by General Dynamics, and is currently in limited production by Lockheed Martin.
On Tuesday, Denmark announced a "coalition" that will handle the training of Ukrainian pilots on the US-made jets, starting in August. It will be led by Denmark and the Netherlands, and also consists of Belgium, Canada, Luxembourg, Norway, Poland, Portugal, Romania, the UK and Sweden. About half the countries involved do not actually operate the F-16, while none of those that do have publicly committed to sending any to Kiev.
Speaking with the US government outlet Radio Svoboda, Ukrainian Foreign Minister Dmitry Kuleba said the training "should begin sometime in August, possibly early September." Ideally, he said, the first F-16s piloted by Ukrainians will fly "by the end of the first quarter of next year."
"But we need to train engineers, technicians, we need to prepare the infrastructure. There are many details, so the schedule may shift," Kuleba added.
Moscow has repeatedly urged the US and its allies to stop "pumping" Ukraine with weapons, saying it won't affect the outcome of the conflict but only increase the risk of a direct confrontation. In May, Russian Foreign Minister Sergey Lavrov said that sending F-16s to Ukraine would be "an unacceptable escalation" and warned the West against "playing with fire."
Last month, President Vladimir Putin predicted that F-16s "will burn" just like the Western tanks supplied to Kiev, and said that Russia will find ways to strike at sites outside Ukraine if the jets end up being based there. The single-engine fighter requires pristine runways that Ukraine does not possess, leading to speculation that they might be flown from neighboring NATO countries.
You can share this story on social media: