China's Xi vows to step up war planning
Beijing's security situation has become "increasingly unstable," the leader has warned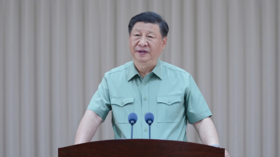 Chinese President Xi Jinping has called on the People's Liberation Army (PLA) to improve its combat readiness in order to be able to "win any war," after meeting with the military command responsible for operations in the Taiwan Strait.
Speaking to soldiers at the PLA's Eastern Theater Command headquarters in Nanjing on Thursday, Xi hailed their "significant contributions" in safeguarding China's sovereignty and urged for "vigilance against potential dangers."
"It is imperative for us to deepen planning on war and combat, upgrade the joint system of theater commands, focus on actual combat training and improve our ability to win any war," the president said following an inspection of the command headquarters.
The Eastern Theater Command is largely focused on the East China Sea and the Taiwan Strait, and would be tasked with conducting major operations against Taipei in the event of a hot conflict.
Over the last year, the command has carried out several rounds of live-fire drills in the waters and airspace around Taiwan, including a three-day exercise in April after Taiwanese leader Tsai Ing-wen met with senior US officials. Last August also saw unprecedented wargames, including drills for a full blockade of the island, in retaliation for a meeting with then-US House Speaker Nancy Pelosi.
Xi went on to warn that the world had entered a "new period of turmoil and change," saying that China must improve its military readiness as its security situation is "increasingly unstable and uncertain." Though he did not cite any country by name, Beijing has repeatedly denounced the US military presence in the Asia-Pacific, including regular "freedom of navigation" transits through the Taiwan Strait by American warships.
Under its One-China policy, Beijing considers Taiwan to be part of its sovereign territory, maintaining that it strives for peaceful reunification, while refusing to renounce the right to use force if necessary.
Though Taipei has never formally declared its independence and Washington does not recognize Taiwan as an independent state, the US regularly holds high-level meetings with Taiwanese officials and has approved billions of dollars in arms sales in recent years, triggering Beijing's ire.
You can share this story on social media: