US approves Taiwan arms sales
Taipei has said it will use the high-explosive cannon rounds and vehicle parts to counter "expanding threats" from China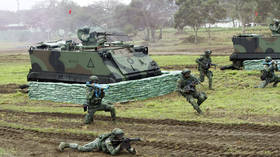 The US State Department has approved the sale of up to $440 million worth of ammunition and military vehicle components to Taiwan, the Pentagon announced on Thursday. The approval is the latest in a series of similar moves by Washington, made amid heightened tensions with China.
Two separate arms deals were approved by the State Department, according to notices posted on the US Defense Cooperation Security Agency's website. The first deal, valued at $332.2 million, will see Taiwan acquire 30mm autocannon ammunition, including high-explosive rounds. The contract will be fulfilled by Alliant Techsystems Operations and General Dynamics.
The second deal concerns $108 million in logistics support, and will see the US provide spare and repair parts for various military vehicles and weapons platforms.
Both sales, the Pentagon stated, will support Taiwan's "continuing efforts to modernize its armed forces and to maintain a credible defensive capability."
Congress now has a month to discuss these sales and request that they be blocked or modified. With most Democrats and Republicans supporting President Joe Biden's hardline stance on China, this is unlikely to happen.
The announcement came three months after the State Department approved the sale of $619 million worth of missiles for Taiwan's fleet of US-made F-16 fighter jets. Separately, Washington and Taipei are reportedly in talks about the possible supply of $500 million in fast-tracked military aid, which would not require approval and would be drawn from existing US stockpiles.
Taiwan's defense ministry said on Friday that the sales would boost the island's defenses against China's "expanding threats of military and gray zone tactics," referring to China's probing of Taiwan's air defenses with drones and other aircraft.
China has persistently argued that American arms sales embolden the island's government, and violate the 'One China' principle, under which the US recognizes, but does not endorse, China's sovereignty over Taiwan.
Tensions between the US and China have been running high since last year, when then House Speaker Nancy Pelosi made a high-profile visit to Taipei. President Biden later stated several times that he would use military force to fend off a hypothetical Chinese attack. Beijing responded by restricting diplomatic contact with Washington and launching military drills around Taiwan, and Biden further inflamed tensions earlier this month when he called Chinese President Xi Jinping a "dictator" immediately after a meeting of American and Chinese top diplomats.
You can share this story on social media: