US prepares express weapon delivery for Taiwan – Bloomberg
The $500-million shipment would reportedly be the first time Washington has used an expedited Ukraine-style mechanism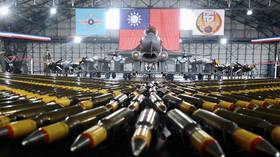 The US is working on a new fast-track defense package for Taiwan, Bloomberg reports, claiming the government will use the Presidential Drawdown Authority to expedite the shipment – an instrument which has been actively used to shore up Kiev, but not Taipei.
In an article on Friday citing anonymous "people familiar with the matter," Bloomberg said the package worth $500 million would draw on the American military's existing stockpiles of weapons and equipment. The exact makeup of the shipment is so far unknown, sources told the network.
By using the drawdown authority, the US would circumvent the process of contracting and producing arms, which is likely to be time-consuming, the report said.
On Friday, Chinese Foreign Ministry spokesperson Mao Ning accused the US of "turning Taiwan into a powder keg," which, she said, "only spells trouble for our Taiwan compatriots."
Beijing, which considers the island to be an inalienable part of its territory seized by separatists, urged Washington to "stop arms sales" to Taiwan and warned of "consequences."
Mao's comments came in response to the Taiwan-US Defense Industry Forum held in Taipei earlier in the week.
Washington has authorized multiple weapon deals with Taiwan in recent years, including a major sale of F-16 fighter jets. However, quite a few of the deals have yet to come to fruition, resulting in a backlog of sales totaling $19 billion – a figure cited by Congressman Mike Gallagher in February.
Several US lawmakers have criticized the White House for being slow on the deliveries to the self-governing island.
Taiwan has been de facto independent since 1949, when the losing side in the Chinese Civil War fled to the island and established its own government. While only a handful of nations have recognized Taiwan as a sovereign state, the US has long maintained close, unofficial ties with Taipei, both militarily and economically. Formally, Washington still adheres to the One-China policy.
Tensions between Washington and Beijing further escalated last month after Taiwanese President Tsai Ing-wen paid a visit to the US, meeting with House Speaker Kevin McCarthy and several other lawmakers. China responded with massive combat readiness drills around Taiwan.
President Biden has said the US would deploy its military should China attempt to seize the island by force.
You can share this story on social media: