F-16 shipment to Taiwan delayed – minister
The arrival of the first batch of new US aircraft was pushed to 2024, the top defense official said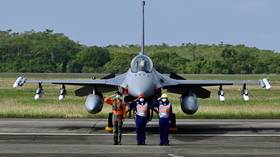 Delivery of 66 F-16V fighter jets from the US to Taiwan has been delayed due to pandemic-related production and supply-chain problems, the island's defense minister, Chiu Kuo-cheng, said on Thursday. The first batch of jets was supposed to be delivered in the fourth quarter of this year, but has been pushed to the third quarter of 2024.
Chiu said authorities asked the US to "make up the deficiency," and were working with the de facto US embassy in Taipei and using other diplomatic channels. "We are minimizing the damage," the minister said, adding that the full order was still expected to be delivered before 2026.
The Focus Taiwan news outlet quoted Chiu as saying that the $8 billion contract signed in 2019 did not include financial penalties for late delivery and that the US promised to provide spare parts ahead of schedule. The new shipments would bring Taiwan's F-16 fleet to more than 200 aircraft, making it the largest in Asia, according to Reuters.
Taipei is working to upgrade its aircraft in response to the heightened tensions with mainland China, with Beijing and Washington accusing each other of dangerous escalation in the Taiwan Strait and the larger Asia-Pacific. The Taiwanese Defense Ministry said on Thursday that 16 People's Liberation Army jets and nine warships were detected close to the island's coasts.
Beijing held large-scale military drills around Taiwan last month following the visit of the island's president, Tsai Ing-wen, to the US. Beijing considers the island, which has been ruled by a separate government since the late 1940s, its territory and strongly opposes foreign contacts with the Taipei authorities.
The US formally upholds the One-China policy by refraining from officially recognizing Taiwan as an independent state but has sold weapons to the island and promised to defend it from a potential attack from the mainland.
Last year, Taiwan complained that deliveries of M109A6 Paladin self-propelled howitzers were delayed due to the pandemic. Taipei also raised concerns that shipments of Stinger air-defense missile systems could be held up because of the Russia-Ukraine conflict.
In April, a group of US legislators that visited Taiwan urged the White House to speed up delivery of $21 billion worth of backlogged weapon sales promised to Taipei.
You can share this story on social media: