War in Asia would 'radically change' the world – Singapore
A US-China conflict would severely disrupt global supply chains, Singapore's defense minister has warned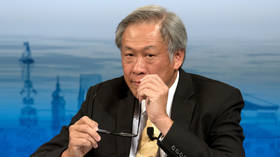 Singaporean Minister for Defense Ng Eng Hen said on Wednesday that the outbreak of war between the US and China would have profound implications for the entire world. He added that all nations must come together in the next decade to prevent escalating tensions between Beijing and Washington from reaching a tipping point.
"The stakes have never been higher," Ng warned on Wednesday at the opening of the IMDEX Asia 2023 naval and maritime exhibition in Singapore. He said the "top priority for all government leaders" in the next ten years should be to ensure that conflict does not break out in Asia – the consequences of which, he cautioned, would be "disastrous for all of us."
"Should that calamity ever befall us, whatever the cause and post-hoc justifications, the world as we know it will be radically changed and indeed impoverished," Ng said.
The defense minister's comments come amid heightened tensions between Beijing and Washington over manifold issues including China's stance on Taiwan, as well as US influence in the South China Sea. Beijing, meanwhile, has accused the US and its allies of "embarking on a path of error in danger" regarding its geopolitical policies in the Indo-Pacific, particularly the Biden administration's decision to supply nuclear-powered submarines to Australia.
Ng also noted the supply chain issues that have manifested as a result of Moscow's offensive in Ukraine, and which have led to disruptions to various commodities such as energy, wheat and grain. But he said any potential conflict involving the US and China – which account for more than a quarter of global trade – would create a situation that vastly surpasses current supply issues.
Some 30% of global seaborne trade passes through the South China Sea, Ng explained. That figure includes one-quarter of global oil and one-third of global container trade. Any disruption to this would have obvious negative implications, Ng also said.
"The world is dependent on China as a major manufacturer for sundry goods and many essentials of our way of life," he explained. Ng also added that he believed that, such is China's influence as it relates to essential goods, no "transnational global challenges" can be addressed without input from Beijing.
You can share this story on social media: