China accuses US of leading Taiwan to 'abyss of disaster'
Washington approved a $440 million weapons sales package to Taipei last week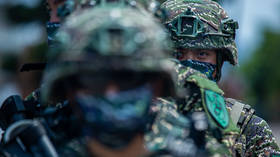 China's Defense Ministry on Wednesday accused the US of "deliberately" escalating tensions in the Taiwan Strait after Washington authorized the sale of $440 million worth of military equipment to Taipei last week.
The weapons package, which includes 30mm ammunition, small arms, combat weapon systems and other logistical support items, was approved last week by the US State Department. But in a sternly-worded statement, Beijing's Defense Ministry spokesperson accused Washington of "crudely interfering" in its internal affairs.
"This is tantamount to accelerating the transformation of Taiwan into a 'powder keg' and pushing the Taiwanese people into the abyss of disaster," Tan Kefei said at a press briefing, according to a statement posted on the ministry's website.
Tan also urged Washington to "immediately stop selling arms to Taiwan" and end "any form of US-Taiwan military collusion." He also warned that any designs to "use force to seek independence" are "doomed to failure."
Last week, the US State Department said the arms deal – which is to come as two separate packages – will bolster "efforts to modernize [Taiwan's] armed forces and maintain a credible defensive capability."
In his Wednesday statement, Tan also called on the Biden administration to respect the terms of the 'One China' principle – in which Beijing states that Taiwan is a part of its sovereign territory, and a breakaway province which is to be returned to full Chinese rule.
Washington does not formally recognize Taipei's claims to self-governing independence, but maintains informal diplomatic ties. US law mandates that it must "provide Taiwan with arms of a defensive character" to resist threats which might "jeopardize the security of the people of Taiwan."
China frequently expresses its anger at diplomatic exchanges between Taiwan's leadership and foreign governments. In April, following a meeting in California between Taiwan president Tsai Ing-wen and US House Speaker Kevin McCarthy, China staged several days of military exercises around the island – including one which simulated a naval blockade.
You can share this story on social media: