Russia wins appeal against Paralympic suspension – committee
The decision adopted by the International Paralympic Committee (IPC) last November has been reversed, Russian officials have announced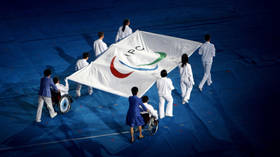 The Russian Paralympic Committee (RPC) has announced that it has succeeded with its appeal against suspension from the International Paralympic Committee (IPC).
The IPC's appeals body "has confirmed that the decision of the IPC General Assembly to suspend the RPC's membership in the IPC is being canceled," the RPC said in a statement on Friday.
A tribunal of three judges considered the complaint by Russia during a session in Dubai two weeks ago, the statement read.
The IPC Extraordinary General Assembly voted to suspend the RPC's membership in November last year. The committee had previously banned Russian athletes from taking part in the Beijing Paralympics in March 2022 because of the conflict in Ukraine.
According to the RPC, the appeals tribunal explained that it had canceled Russia's suspension because the initial decision by the IPC General Assembly was made with "procedural violations."
Among other things, the tribunal stated that no evidence of any wrongdoing by the RPC was presented to the participants of the November 16 meeting. The appeals body added that it had not received sufficient evidence before its session in April, according to the statement.
The tribunal also argued that "the RPC's membership cannot be suspended on the grounds of risks that IPC events might be used for political propaganda because the very fact of the violation must be established, but not the risk of it," the RPC said.
However, the RPC pointed out that the new ruling does not mean that Russian Paralympic athletes will be granted an immediate return to international competitions. In its letter, the appeals body stressed that its verdict does not have the power to overturn the decision of the IPC Executive Board from March 30, 2022, to bar Russian representatives from participating in IPC events, the statement read.
"The Appeals Tribunal did not draw any conclusions on the violation of the rights of athletes, including the possibility of their admission to international competitions," the RPC said.
The RPC added that it is planning to explore other legal options to challenge the IPC's ban on the country's athletes.
You can share this story on social media: