French biathlon legend calls for return of Russian athletes
Excluding sportsmen and women over their nationality is discriminatory, Martin Fourcade has said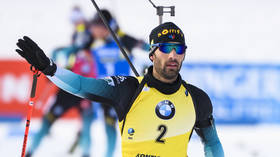 Russian and Belarusian athletes should be allowed to compete at global events and must not be discriminated against because of their nationality, French biathlon icon Martin Fourcade has said.
Fourcade, a five-time Olympic champion, shared his opinion along with several active or recently retired athletes in an interview with sport news outlet Francs Jeux published on Thursday.
The International Olympic Committee (IOC) reversed its recommendation for a blanket ban on Russian and Belarusian athletes in March, having initially called for them to be suspended following the start of Moscow's military operation in Ukraine.
The IOC now says international federations should allow Russians and Belarusians to compete, but only as neutrals and in individual events. The decision has caused outrage in Ukraine and among some of its allies.
However, biathlon icon Fourcade supports the step, telling Francs Jeux: "Excluding these athletes from competition because of their passport or nationality is discriminatory and goes against the core values of sports."
Fourcade, who retired in 2020 and currently chairs the Athletes' Commission of the Organizing Committee for the 2024 Olympics in Paris, stressed that his position should not be interpreted as support for the Russian government. The 13-time world champion noted that when he competed, he was not representing his nation's political policies.
"It's important to show Russian people that athletes from their country and athletes from around the world can rise above politics and propaganda and compete on a fair and equal playing field," the 34-year-old urged.
Polish mountain biker Maja Wloszczowska suggested that punishing some athletes for the actions of their governments, but not others, was a difficult policy to defend.
"If we disqualify Russian and Belarusian athletes, what about other nations? There are a lot of conflicts in the world," she pointed out.
Boxer Mohamed Ghaleb Mohammed Al-Qarnas, who hails from war-torn Yemen, told Francs Jeux that Russians and Belarusians should be able to compete, but not receive medals.
Kirtie Algoe, a taekwondo fighter from Suriname, called for political neutrality in international sports. People should be able to compete "regardless of whether their country is run by a non-democratic leader or not," she insisted.
Cameroonian volleyball player Victoire L'or Ngon Ntame said it was "unfair to shatter an athlete's Olympic dream because of a situation that they did not cause." She recalled efforts to relieve tensions on the Korean Peninsula during the 2018 Winter Olympic Games in PyeongChang.
Last month, the Ukrainian government banned its athletes from any Olympic qualification events which feature Russians or Belarusians.
You can share this story on social media: