Chinese submarine test-fires next-gen ballistic missile – reports (VIDEO)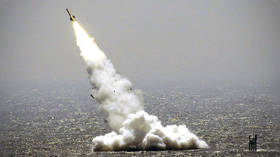 A Chinese next-generation submarine-launched ballistic missile (JL-3) was reportedly successfully test-fired on Sunday – the same day the defense minister vowed to "fight to the end" if challenged by the US.
China demonstrated its sea-based nuclear deterrent by firing a JL-3 ballistic missile (SLBM) in the Bohai Sea in the early hours of Sunday morning, Defense Blog reported, citing eyewitnesses in the area. The area was closed to navigation by the Maritime Security Administration to conduct "military exercises." Beijing has yet to confirm the test or its results.
The solid fuel SLBM, which is expected to enter service next year, has a range of up to 14,000km (8,700 miles) and is equipped with 10 independent guided nuclear warheads.
The test comes amid unprecedented tensions in the Indo-Pacific as Washington continues to challenge China's growing influence in the region with constant 'freedom of navigation' sails across the Taiwan Strait and in the disputed waters of the South China Sea.
Also on rt.com
US destroyer armed with missiles enters S. China Sea in challenge to Beijing's territorial claims
"If anyone dares to split Taiwan from China, the Chinese military has no choice but to fight at all costs," Chinese Defense Minister Wei Fenghe warned on Sunday. If the US chooses to fight, whether economically or militarily, China will "fight to the end," Wei said.
Also on rt.com
Chinese defense minister vows to 'fight to the end, at all costs' over trade & Taiwan
Like this story? Share it with a friend!
You can share this story on social media: