US destroyer armed with missiles enters S. China Sea in challenge to Beijing's territorial claims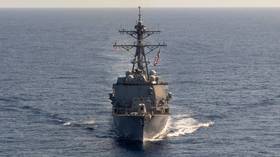 A US Navy Arleigh Burke-class destroyer sailed next to a disputed shoal in the South China Sea, ignoring repeated warnings from Beijing to stay clear of the region amid rising tensions between the two economic superpowers.
On Sunday, the USS Preble (DDG-88), armed with Tomahawk missiles, sailed along the Scarborough Shoal in the South China Sea in order to "challenge" the Asian giant's claim to the area. Washington has repeatedly refused to acquiesce to Chinese protests over its incursions into the sea, citing the principle of "freedom of navigation."
"Preble sailed within 12 nautical miles of Scarborough Reef in order to challenge excessive maritime claims and preserve access to the waterways as governed by international law," Commander Clay Doss, a spokesman for the Seventh Fleet, stated.
Also on rt.com
US warships sail through disputed South China Sea as Trump prompts trade war escalation with Beijing
The navigation of the Preble, so close to the Scarborough Reef, was later condemned by Beijing. Commenting on the matter during a news briefing, Foreign Minister Lu Kang said the ministry "strongly urges" the US to stop sending its warships to the region, calling them "provocative actions."
Sunday's incident marks the second such US intrusion into the South China Sea this month. On May 6, the USS Chung-Hoon sailed within 12 nautical miles of Gaven and Johnson Reefs in the Spratly Islands, triggering a strong response from China.
"The relevant actions of the US warships violated China's sovereignty and undermined peace, security and good order in the relevant sea areas," Chinese Foreign Ministry spokesperson Geng Shuang said.
Also on rt.com
US is heading toward a looming maritime showdown… but not with Iran
Washington's daring actions followed last week's Chinese announcement that it will impose tariffs of up to 25 percent on $60 billion worth of American products, in retaliation for Trump's levies on $200 billion of Chinese goods.
The Preble's journey into the disputed waterway also coincided with bilateral naval drills being held in the South China Sea by the Indian and Singaporean Navies. Those exercises are set to conclude on Wednesday.
Like this story? Share it with a friend!
You can share this story on social media: