China fighting 'PEOPLE'S WAR' against US – state media on tariff hikes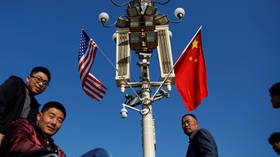 China's state-backed Global Times has called Beijing's trade conflict with Washington a "people's war" and accused the US of "greed and arrogance," after both sides hiked tariffs on each other's exports.
"In the Sino-US trade war, the US side fights because of greed and arrogance," read a Monday op-ed by the Global Times, published on Xinhua News. Xinhua is a state-run press agency, and Global Times usually communicates the Chinese government's position.
America's "morale will break at any time," the article thundered, adding that "China is fighting back to protect its legitimate rights and interests."
For us, this is a real "people's war."
Global Times' stance was echoed by China's state-owned broadcaster CCTV, which declared "China will strengthen its confidence...and fight for a new world."
The trade dispute between Washington and Beijing has been simmering for two years. As well as looking to narrow the trade deficit between the two countries, President Donald Trump has repeatedly accused China of stealing trade secrets and forcing foreign companies to hand over technology as a price of entry to the Chinese market.
The latest escalation in the long-running feud began on Friday, when the White House increased tariffs on $200 billion worth of Chinese imports from 10 percent to 25 percent. China retaliated on Monday, saying it would apply tariff hikes of its own to $60 billion in American goods.
Washington responded again by publishing a list of a further $300 billion in Chinese goods that it could also hit with 25 percent tariffs. If the Trump administration were to follow through and apply these levies, almost all of China's yearly $540 billion worth of exports to the US would be subject to duties.
Also on rt.com
Consumer goods in crosshairs as Trump considers additional China tariffs
Beijing, meanwhile, has suggested that tariffs will hurt American consumers and companies that manufacture in China.
"The US tariff moves are very much like spraying bullets," read another Global Times op-ed published Monday. "They will cause a lot of self-inflicted harm and are hard to sustain in the long term."
"Make your product at home in the USA and there is no tariff," Trump countered on Tuesday. "Many companies are leaving China so that they will be more competitive for USA buyers… we are the 'piggy bank' that everyone wants to raid and take advantage of. NO MORE!"
....so that they will be more competitive for USA buyers. We are now a much bigger economy than China, and have substantially increased in size since the great 2016 Election. We are the "piggy bank" that everyone wants to raid and take advantage of. NO MORE!

— Donald J. Trump (@realDonaldTrump) May 14, 2019
With the trade war continuing and a deal nowhere in sight, next month's meeting between Trump and Chinese President Xi Jinping at the G20 summit in Osaka will likely be a contentious one.
Think your friends would be interested? Share this story!
You can share this story on social media: