You too can repeat Yuri Gagarin's 1st-ever spaceflight: Russia announces space tourism projects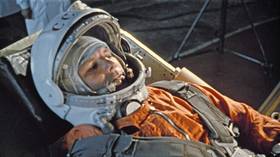 Roscosmos will offer orbital flights replicating the route taken by Vostok 1 when it became the first manned space vessel in 1961. The agency has also signed a contract to take visitors to the ISS for the first time since 2009.
As well as allowing others to step into Yuri Gagarin's (hopefully, perfected) spacesuit, the flight will allow "the preparation time for those who want to see our planet from space" to be cut, Dmitry Rogozin, the head of Roscosmos, tweeted.
Gagarin spent 108 minutes off the ground during his flight, in which he circled the planet once, before re-entering the atmosphere and ejecting from his capsule 7km above the ground to descend in a parachute.
Also on rt.com
Russian 'space yachts' to fly tourists to near-Earth orbit in 5 years
Rogozin's tweet came as the agency made a separate announcement that it signed a contract with US firm Space Adventures to take two "non-professional" astronauts up to the International Space Station before 2021.
Space Adventures was the company that helped organize eight paid spaceflights to the station starting from 2001, each costing tens of millions of dollars for their affluent clients, including Microsoft billionaire Charles Simonyi, who went twice.
Reaction in Russian-speaking social media to the announcements was mixed: some expressed excitement at the sheer chance of recreating the most famous space journey, and welcomed the return of the publicity that surrounded the space tourists. Others felt that this was a money-making distraction from genuine space exploration, and symptomatic of stagnation in the domestic space industry.
Also on rt.com
Richard Branson says Virgin Galactic will be in space 'within weeks, not months'
Roscosmos will argue that space tourism does not come at the expense of any other space projects, as its ambitious moon exploration program is reportedly on track, while a Russian state-affiliated research institute boasted on Sunday that it is developing reusable "space yachts" that can take tourists to the orbit within five years.
Like this story? Share it with a friend!