WATCH French students gripped by Yellow Vest protest spirit OVERTURN cars in Orleans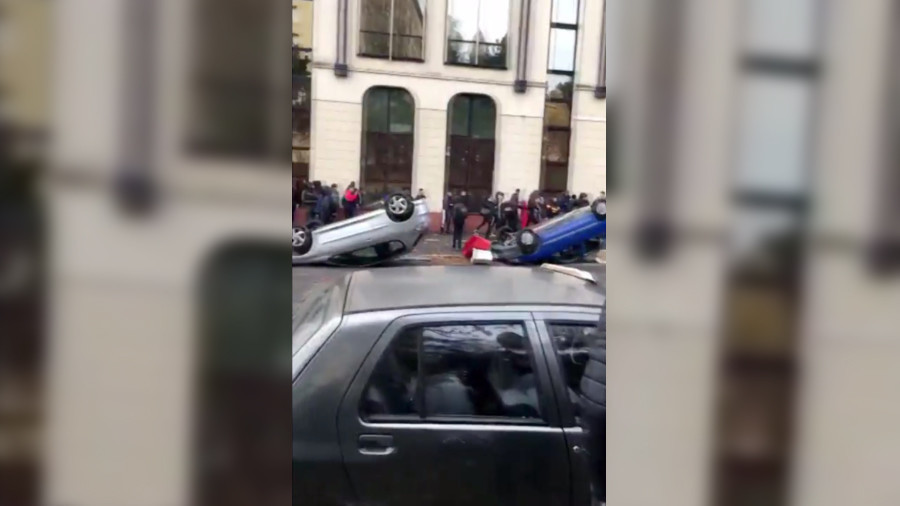 Dramatic footage of French students rampaging through the streets of Orleans, overturning cars and clashing with police, has emerged online.
The video taken in the north-central French city captured the trail of destruction. It shows a group of high school students, some of them masked, lifting and rocking a parked car before it finally tips over. As the camera pans down the street, it reveals that other cars have already suffered the same fate, as the students continue to march on in search of more targets.
The scene is typical of actions taken by students in cities across France since Monday, with thousands taking part in street demonstrations. However, they quickly turned violent with students burning cars and building barricades as riot police moved in to quell the dissent.
Also on rt.com
'Out of touch': Protesting French people want to be heard – but gov't does not listen
Organized by the National Union of High School Students (UNL), the protests aim to overturn educational reforms proposed by President Emmanuel Macron.
READ MORE: 48 police officers injured at Yellow Vest protests in Toulouse (PHOTOS, VIDEO)
These include the elimination of core subjects like science, social studies, and literature, as well students having to choose specific degrees sooner. The government also wants to change the criteria for the BAC grade, the examination required to go to university.
Also on rt.com
Yellow Vests leader: Fuel tax moratorium is crumbs, we want the baguette
The student clashes with police mirror that seen in the recent wave of nationwide Yellow Vest protests, which aimed at overturning a proposed increase in fuel prices.
The scale of the violence and destruction wreaked at its latest demonstration in Paris and Toulouse on Saturday prompted the government to hold an emergency meeting on the issue, with Prime Minister Edouard Philippe announcing a six-month moratorium on any increases on Monday.
CORRECTION: The earlier version of the article stated that the cars were overturned in Toulouse. The correct location is Orleans.
Subscribe to RT newsletter to get stories the mainstream media won't tell you.