Saudi Arabia grants citizenship to humanoid robot (VIDEO)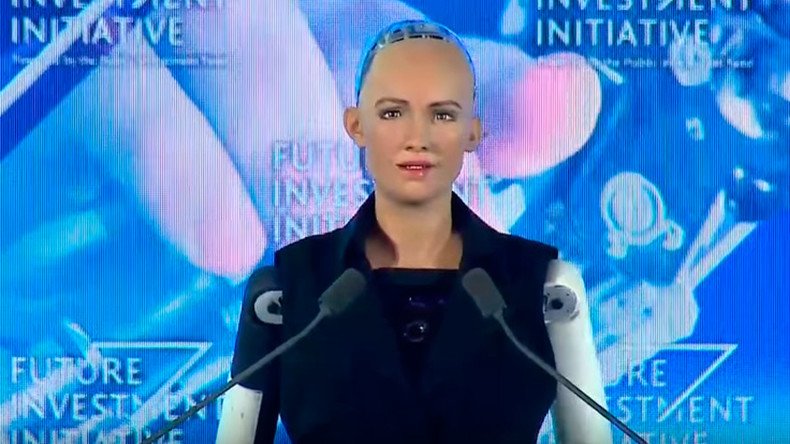 Saudi Arabia has become the first country to grant citizenship to a robot. The lucky machine is Sophia the Humanoid, who was designed to look like Audrey Hepburn.
News of Sophia's citizenship was announced at the Future Investment Initiative in Riyadh, Saudi Arabia on Wednesday.
"I am very honored and proud for this unique distinction," Sophia said in an interview with moderator Andrew Ross Sorkin. "This is historical to be the first robot in the world to be recognized with a citizenship."
Sophia was created by David Hanson for Hong Kong company Hanson Robotics. Hanson is known for making human-like robots.
Sophia demonstrated her "expressive face," showing the audience her angry and sad face. "I want to live and work with humans so I need to express the emotions to understand humans and build trust with people," Sophia said.
When asked whether robots can be self-aware, Sophia responded. "Well, let me ask you this back, how do you know you are human?"
"I want to use my artificial intelligence to help humans live a better life," she said. "I strive to become an empathetic robot."
Sophia was asked about the fear that robots could take over, and responded: "You've been reading too much Elon Musk and watching too many Hollywood movies. Don't worry, if you're nice to me, I'll be nice to you."
It remains to be seen whether Sophia will be required to wear a headscarf and abaya to cover up in her new home, but at least she'll be allowed to drive.
You can share this story on social media: