French students block high schools, burn cars and throw stones at police amid massive protests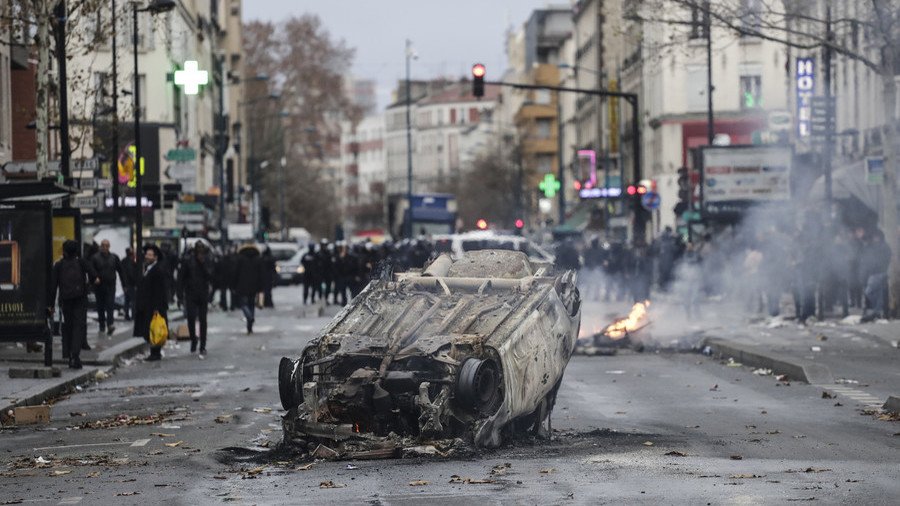 While still reeling from the recent violent fuel protests, France has been hit by another wave of nationwide riots. Crowds of angry students have blocked schools across France in protest against the education reform.
Thousands of high school students flooded the streets of French cities on Monday, their protest quickly turning violent. Angry youths, who initially came out following the call of the National Union of High School Students (UNL), started erecting barricades and burning cars.
The street riots soon descended into clashes between the protesters and police. Videos posted on social media showed young people detained by police lying on the ground, streets filled with tear gas and overturned cars in the French city of Orleans.
In the Paris suburb of Aubervilles, the protesters, many of who are underage, were seen pelting police and firefighters with stones and chasing police cars through the streets. Officers responded with tear gas and stun grenades.
In Toulon, the protesters erected a large barricade from plastic road barriers and set it on fire.
The central French city of Limoges saw the high-schoolers joined by local farmers and members of the Yellow Vest movement against new taxes and higher fuel prices. The farmers drove tractors and trucks to the office of the local prefecture and blocked the streets around it.
In Nice, crowds of students marched through the center of the city and blocked a nearby highway, triggering a traffic collapse. The protesters, who were initially rallying against the education reform, started chanting political slogans and called for President Emmanuel Macron to resign.
Students around France blocked entrances to dozens of educational facilities.
The protests came just two days after violent clashes between the Yellow Vest movement demonstrators and police rocked several French cities, including Paris. Saturday's scuffles resulted in hundreds of arrests and injuries.
Also on rt.com
France mulls state of emergency after 3rd weekend of Yellow Vest protest mayhem
The students have their own reasons to protest. The government plans to grant universities the power to set up admission criteria in order to avoid overcrowding, reform the baccalaureate system and introduce a new online app to streamline the admission process have been repeatedly sparking protests among the youths since March.
Now, the two movements, however, appear to be joining forces as students across the country have expressed their support to the Yellow Vests on Monday and people wearing the symbolic garment were seen among the student demonstrators.
Think your friends would be interested? Share this story!
You can share this story on social media: