Terrified passengers watch their jet engine falling apart on takeoff (VIDEOS)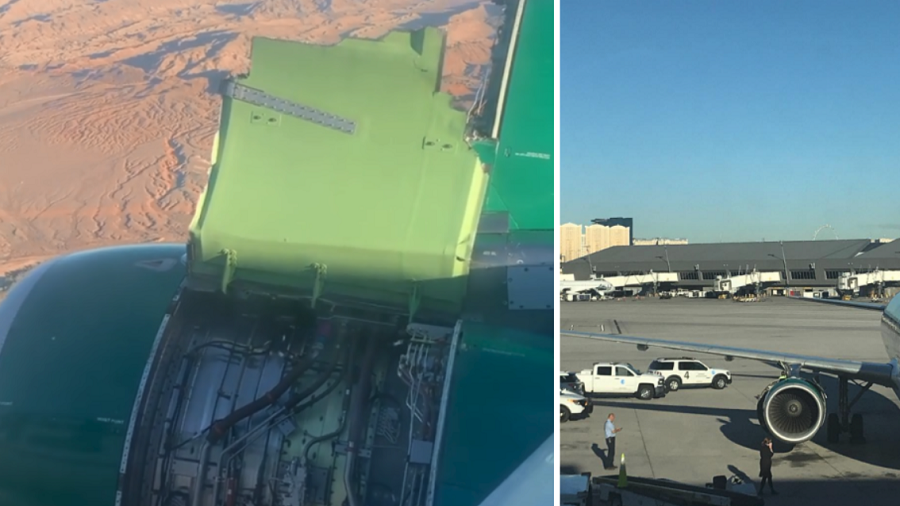 Dozens of passengers on a Frontier Airlines flight from Las Vegas to Florida have suffered probably the most chilling 15 minutes of their lives, after an engine on their jet was partially torn apart, forcing an emergency landing.
A section of the jet engine cowling was torn apart after it came loose during Frontier Flight 260's takeoff in Nevada Friday morning, prompting shocked passengers to "jump up screaming." Footage of the incident, taken by several people on board the Airbus 320, shows a shredded engine cover hanging on by the last threads to the rest of the unit.
The flight crew immediately requested a return to Las Vegas McCarran International Airport and were allowed to do so at 7:27 am, some 15 minutes after takeoff. Despite the scare, all 166 passengers and six crew members made it back safe. "The engine continued to operate normally and the aircraft, an Airbus 320, landed safely," the airline reassured its customers.
To save face and somehow compensate travelers for their chilling experience, the company offered them a full refund and a $500 voucher for a future Frontier flight. The airline also transferred passengers onto other airlines so they could get to Florida within a reasonable amount of time. The incident is now being investigated by the Federal Aviation Administration.
Like this story? Share it with a friend!