Starving Yemeni girl from shocking NYT photo dies as bombing & blockade continues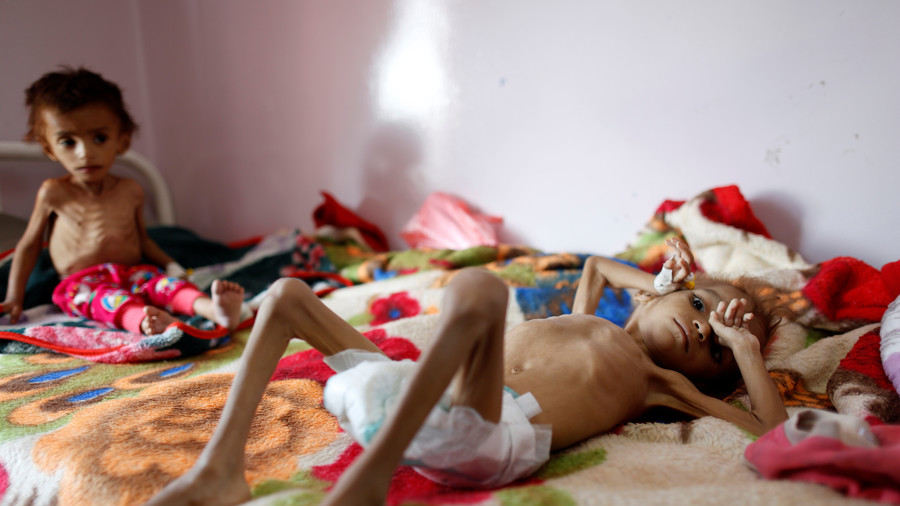 A starving Yemeni girl, whose searing portrait from a hospital bed brought the world's attention to the ongoing and growing humanitarian disaster in the country, has died. Meanwhile, the Saudi-led blockade of supplies continues.
The photo of an emaciated Amal Hussein was published as part of a story in the New York Times last week, highlighting the growing human tragedies caused by the ongoing fighting and the devastating impact the Saudi Arabia-led bombing campaign has had on civilians.
On Thursday, her family told the paper that Amal had died in a refugee camp, several miles from the hospital that had tried to treat her. She was seven years old.
Amal Hussain, 7, put a human face on Yemen's man-made crisis. I'm sorry to say that she has died. "My heart is broken," her mother told us. So are many others. https://t.co/5tGKzms720

— Declan Walsh (@declanwalsh) November 2, 2018
"My heart is broken," Amal's mother, Mariam Ali tearfully told the paper of the tragic passing. "Amal was always smiling. Now I'm worried for my other children."
The story, which brought attention to the plight of Amal, her family, and the millions of other Yemenis on the brink of starvation, was quickly shared on social media, despite Facebook initially removing posts.
Outrage at the deletions resulted in the tech giant scrambling to defend the decision, arguing the picture of a naked Amal breached its 'sexual material' guidelines. It later overturned its decision agreeing that the picture was "an important image of global significance."
READ MORE: Saudis, UAE pressured UN for favorable media coverage in exchange for Yemen aid – report
Saudi Arabia has led the military intervention in Yemen since 2015 on the side of the ousted government of Abdrabbuh Mansur Hadi which is fighting Houthi rebels. While the conflict has dragged on for years without much opposition from the West, Riyadh has lately come under increased scrutiny following the killing of Saudi journalist Jamal Khashoggi in its Istanbul consulate last month.
The Saudi-led air war in Yemen has hit countless civilian targets including markets, weddings, funerals, and buses carrying school children. But its naval blockade of the Red Sea port of Hodeidah – where 80 percent of aid enters the country – has spelt an all-out humanitarian disaster, leaving 14 million Yemenis at risk of starvation, while the lack of medicines has seen many more die of cholera and other diseases.
READ MORE: 'Evidence' Saudi-led coalition aims to destroy food production in Houthi-controlled Yemen – report
The coalition has also pounded facilities and infrastructure integral to supplying aid. A report published last month said there was "strong evidence" to suggest it was committing war crimes through the targeted destruction of food production facilities and fishing areas in Houthi-controlled territory.
Even calls for a "cessation of hostilities," by US Secretary of State Mike Pompeo and Secretary of Defense James Mattis, on Tuesday, have fallen on deaf ears. In the early hours of Friday morning, the Saudi-led coalition ran 12 air raids against targets across Yemen, insisting that all areas hit were "legitimate military targets."
Subscribe to RT newsletter to get stories the mainstream media won't tell you.