Airstrike reported close to crowds at Yemeni politician's funeral (VIDEOS)
Published time: 28 Apr, 2018 19:13
Edited time: 29 Apr, 2018 08:22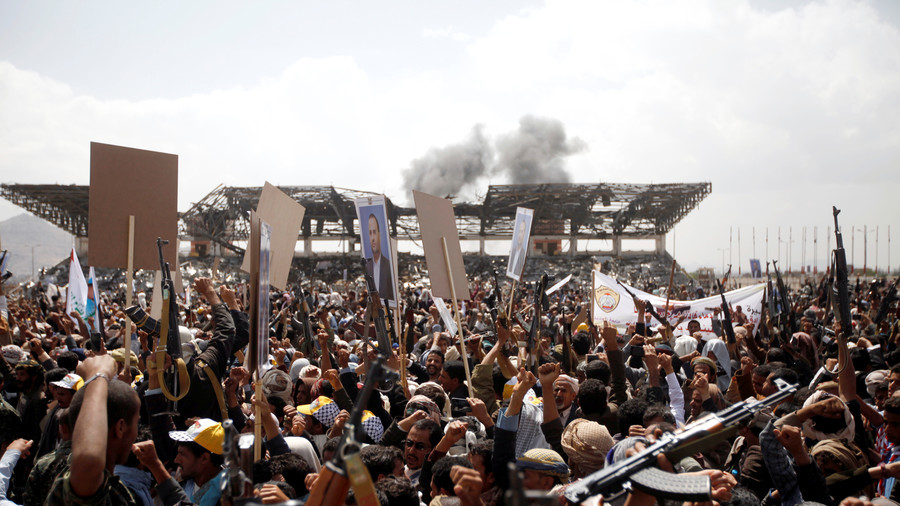 Video footage from the funeral of a Houthi political leader shows agitated crowds, as a loud blast is heard, followed by the sight of black smoke billowing in the vicinity.
Tens of thousands of Yemenis mourners were attending the funeral of Saleh al-Samad on Saturday when the airstrike occurred. There were no immediate reports of casualties, according to Reuters.
Lebanese news outlet Al Mayadeen reported that the Saudi-led coalition was responsible for the strike. Saudi officials have not confirmed this.
Al-Samad was killed alongside his six bodyguards by Saudi-led coalition airstrikes on his residence in the port city of Hudaydah on April 19. As the chairman of Yemen's Supreme Political Council, he was the second most wanted figure by the Saudi-led coalition. He is the most senior Houthi official to be killed by the coalition since Saudi Arabia intervened in Yemen three years ago to fight the Houthi rebels and help reinstate ousted President Mansour Hadi.
The Houthi movement said it launched eight ballistic missiles toward the southern Saudi province of Jizan on Saturday, at what it called "economic and vital targets." One man was killed by debris from the projectiles, according to Saudi authorities. Four of the missiles were intercepted, the Saudi Defence Ministry told Saudi-owned Al Arabiya TV.
Meanwhile, Saudi Arabia claimed that it killed several Houthi figures in an airstrike on Friday evening. A total of 38 Houthis lost their lives in the strike, which targeted the Interior Ministry building in Sanaa, Al Arabiya TV. reported. This report, however, has not been confirmed by the Houthis and has been dismissed by some local journalists in Yemen.
More than 5,500 Yemeni civilians have been killed and over 9,000 have been injured from the beginning of the war up until the end of 2017, according to UN figures.
READ MORE: Media suspiciously quiet on US & UK-backed Saudi atrocities in Yemen