'Whole world turned red': Groom recalls deadly Saudi airstrike on Yemeni wedding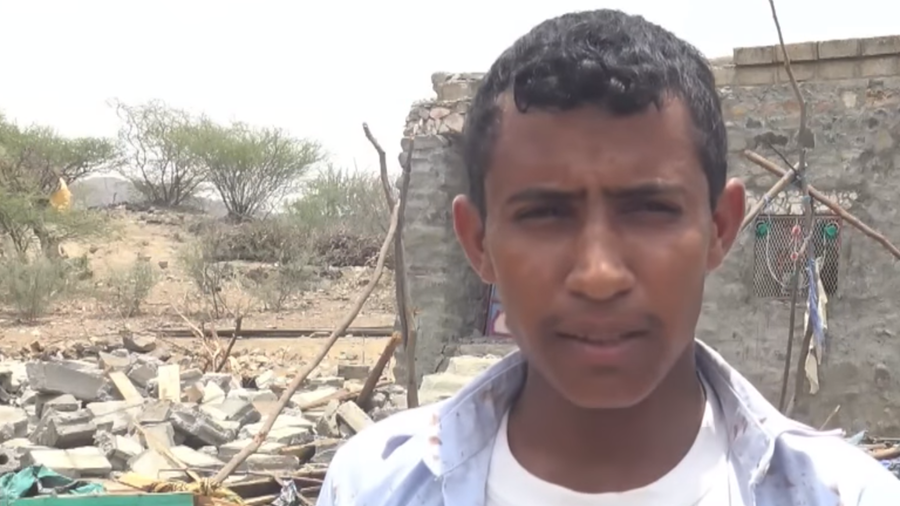 People were torn apart and the world turned red when a Saudi-led airstrike hit a wedding in Yemen's Hajjah province, the event's groom told RT's Ruptly, calling the indiscriminate attack "an act of barbaric aggression."
Yahya Jaafar said that he was with young guests at his wedding when "the missile came and targeted the room and the rest of the house." He recalled that he "got thrown out of the building by the power of the explosion," while "the whole world turned red."
The man survived the blast, saying: "Thank God, I'm alright. But I don't hear well because of that." But most of his guests weren't that lucky, as "many young people got killed and many wounded," becoming crippled for life.
"There were some victims who were torn in half," while splinters injured many others "in belly, head, neck, hands or legs," the groom recalled. The airstrike caused a complete destruction of the building where the wedding took place, he added.
The Saudi-led airstrike on April 22 left between 20 and 50 people killed, according to various reports, with many women and children among the victims. "My cousin has died and other relatives got injured. I can't even count how many friends of mine are wounded," Jaafar said, adding that there was no justification for a missile strike on a peaceful ceremony.
"This was without reason and there was no meeting of the Houthis and this was an indiscriminate bombing," the groom said. The actions of the Saudi-led coalition were "an act of barbaric aggression," he added.
Ruptly also visited the wounded in hospital, with one of them saying that it was a horrific site after the bombardment, as the people "were torn to pieces. There were corpses without heads or hands – or even cut in half."
After the attack, there were some who had to gather body parts scattered around and match them to the corpses placed on blankets, he added. The man said that "the majority of the guests died of their wounds lying on the ground," while they were waiting for medical assistance.
Saudi jets reportedly kept flying over the site of the bombing for some time to prevent ambulances from accessing those in need. A young boy, who was also affected by the blast, said that he "was looking at people dancing" when the missile hit and he was injured.
"Everything was in smoke and fire. I tried to get up several times, but I couldn't walk. I just stayed lying until medics came and took me to an emergency car," he recalled. Another injured guest said: "I've lost my foot – the same for my brother. My other brother died because of the bombing."
He also insisted that there was no need for the coalition to target the wedding, saying: "We didn't have anything there. No weapons. Nothing."
The Saudi Arabian military said that they took reports of an airstrike on the wedding "very seriously" and promised to investigate the incident. However, there has been no news on the promised probe from Riyadh since the statement was made.
Saudi Arabia and its allies intervened in Yemen in March 2015 in order to fight the Houthi rebels and help re-instate ousted President Mansour Hadi to power. Since then more than 5,500 civilians have been killed and over 9,000 injured as of the end of 2017, according to the UN.
The majority of civilian casualties came from airstrikes, with the Saudi-led coalition being blamed by international human rights groups for indiscriminate bombings in Yemen. An airstrike on a Yemeni wedding ceremony claimed 130 lives in September 2015, one of the deadliest single attacks in the conflict so far.
Over a hundred people were killed last year as a funeral came under fire, with market places and other civilian infrastructure also targeted by Saudi-led coalition warplanes. After three years of fighting, Yemen is facing a massive humanitarian crisis. More than 22.2 million people in the country are in need of assistance, with 60 percent of the population lacking food and more than half of Yemeni's left without basic medical services, according to the UN.
Think your friends would be interested? Share this story!
You can share this story on social media: