Up to 50 killed in Saudi-led air strikes on Yemen wedding – local health officials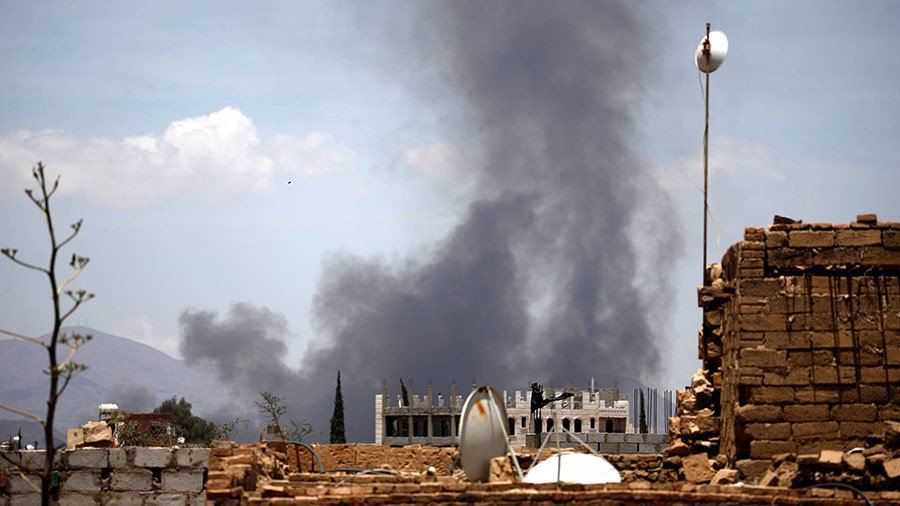 Suspected Saudi-led strikes on a wedding ceremony in Yemeni Hajjah province have resulted in multiple casualties, including women and children. The death toll ranges from 20 to 50 people, reports citing local health officials say.
On Sunday, a reported Saudi-led missile strike hit a house where a wedding ceremony was being held, in Yemen's northwestern province of Hajjah. There are conflicting reports on casualties. Numbers vary from 20, according to AP, to 50 people, according to local Saba News Agency. Meanwhile, Xinhua reports that at least 40 people were killed or wounded, citing a senior health official, Mohammed al-Ashwal.
The same figures were given by the head of Al Jumhouri hospital in Hajjah, who said they received "40 bodies, most of them torn to pieces," according to Reuters. Thirty children were among the 46 injured in the attack, the official said.
The bride was among those killed in the strike, Khaled al-Nadhri, the senior Hajja province health official, said, as cited by AP. According to other reports, the groom was also hospitalized with injuries.
The death toll could rise, as some people are believed to still be under the rubble, according to Saba. At the same time, "a dozen of the injured are in critical condition," al-Ashwal told Xinhua.
Two separate airstrikes on the wedding party were carried out, the Houthi-affiliated al-Masirah broadcaster reported. The Yemeni Health Ministry spokesman, Abdel-Hakim al-Kahlan, said that the jets kept flying over the site of the bombing for some time, which prevented ambulance personnel from assisting the wounded.
Riyadh, which has been repeatedly accused of indiscriminately bombing Yemen, said it would investigate the latest tragedy. "We take this report very seriously," a spokesman for the Saudi-led coalition told Reuters, without elaborating.
A similar statement was made after the previous Saudi-led strike in Yemen, which lead to civilian casualties. On Friday, at least 20 people were killed after the Saudi-led coalition reportedly hit a civilian vehicle in Taiz province.
UN Secretary General Antonio Guterres has condemned the attack, in which "at least 50 civilians, including children, were reportedly killed" and has urged "a prompt, effective and transparent investigation" of the incident, spokesman Stephane Dujarric said, after being approached for comment by RT. "The Secretary-General reminds all parties of their obligations under international humanitarian law concerning the protection of civilians and civilian infrastructure during armed conflicts," Dujarric added.
Since Saudi Arabia intervened in Yemen to fight the Houthi rebels and help re-instate ousted President Mansour Hadi in March 2015, more than 5,500 civilians were killed and over 9,000 injured as of the end of 2017, according to the UN.
During the years-long bombardment, civilian casualties have been repeatedly blamed on Riyadh-led strikes.
One of the deadliest attacks occurred in September, 2015, when an airstrike on a wedding party killed more than 130 people. In November 2017, another bombing hit a market and a hotel building in the northern Saadah province, leaving 26 people dead. The coalition then released a statement claiming the site was a legitimate target – a gathering point for Houthi fighters.
Another 2017 attack on a funeral ceremony, which resulted in more than 100 people dead, amounted to a war crime, according to Human Rights Watch.
"Serious violations of the laws of war committed willfully – that is, intentionally or recklessly – are war crimes," the watchdog said, adding that the place and timing of the event were publicly available and the presence of multiple civilians there was clear.
HRW also lambasted the US and UK for supplying weapons to the Saudis. Washington and London have repeatedly been under fire for military support to Riyadh and the NGO has been calling on them to suspend those arms sales "immediately."
Those calls, however, have had no effect on the kingdom's allies and did not impede Western leaders from welcoming Saudi Crown Mohammad bin Salman during his foreign trip. US President Trump recently boasted about $12.5 billion in finalized sales of American weapons to Saudi Arabia. Meanwhile, the export of UK-made bombs and missiles jumped by almost 500 percent since the beginning of the Saudi bombardment.
As the conflict in Yemen enters its fourth year, more than 22.2 million people in Yemen need assistance, with 60 percent of the population lacking food and more than half of the country left without basic medical services, according to the UN.
Think your friends would be interested? Share this story!
You can share this story on social media: