20 killed in Saudi-led coalition strike on civilian vehicle in Yemen – reports
Published time: 21 Apr, 2018 01:38
Edited time: 23 Apr, 2018 07:51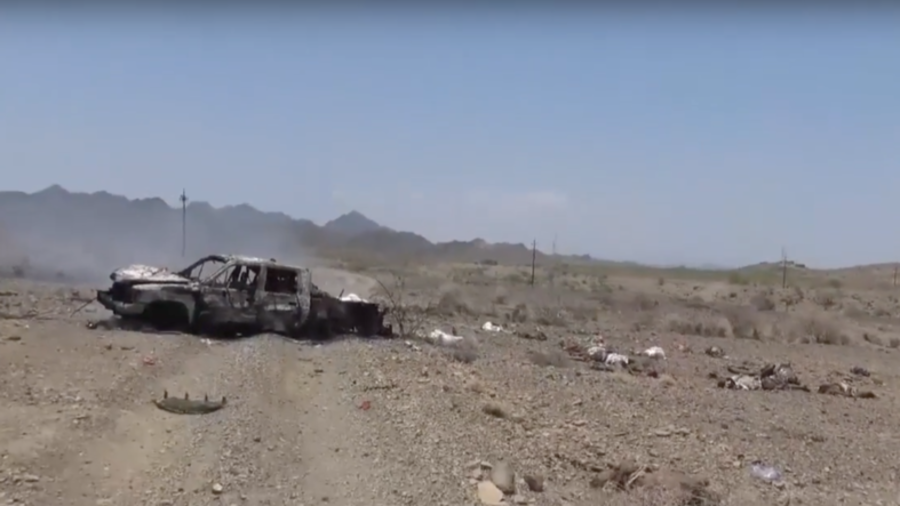 At least 20 people have been killed in Yemen, after the Saudi-led coalition reportedly struck a civilian vehicle in Taiz province on Friday.
"At least 20 civilians were killed and others were injured in US-backed Saudi-led aggression airstrikes on Taiz province," a security official told Saba news agency on Friday. Meanwhile, a military source in Sanaa told Sputnik that at least 18 people died after "coalition aircraft launched a series of raids."
While some sources said a warplane targeted a single car carrying civilians with several airstrikes, a local medical official told Xinhua, that "two vehicles were destroyed by the Saudi-led airstrikes."
WARNING! GRAPHIC VIDEO!
"No one could survive the missile attack," the medic said, adding that the people were killed while returning home from a village market in Mawza area of Taiz. Bodies of the victims "were scattered at the bombing scene," a Xinhua source added.
Local residents, meanwhile, told Reuters that the bodies of the victims were so charred that only six out of 20 corpses could be identified. Arabic news outlets also report at least 20 dead.
استشهد 14واصيب 4 آخرين بجروح خطيرة من المدنيين جراء غارة خاطئة لطيران التحالف ظهر اليوم استهدفت سيارة شاص كانت تقلهم في منطقة العُريِّشْ بمديرية موزع غرب #تعز أثناء عودتهم الى منازلهم في قريتي دار علوان ودار العُنْبِي قادمين من سوق البرح . pic.twitter.com/CD9ScJqGPv

— زكريا الشرعبي (@Zakaria_Sharabe) April 20, 2018
Riyadh, which has been repeatedly accused of indiscriminately bombing Yemen using western made weapons, said it would review the latest tragedy. "We take this report very seriously," a spokesman for the Saudi-led coalition told Reuters, without elaborating.
Earlier this week, the Saudi-led coalition reportedly destroyed a number of civilian houses in the mountain town of Jabal Masar. Monday's strikes, as shown by the footage released on Thursday, killed at least two women and injured scores more civilians. The bombardment also leveled ancient historical sites in the town.
"The historic Mount Masur, dating from about 1,200 years ago, was hit by the Arab Air Force, which targeted the region with Saudi-American Zionist aircraft, destroying the whole area and the populated mountain," a local told RT's Ruptly video agency.
'Double standards: US, UK, France stand by Saudis in Yemen but pose as moral crusaders in Syria'
The raging three-year-old conflict has killed more than 10,000 civilians in Yemen and destroyed vital infrastructure of the country. In what is now deemed as one the world's worst humanitarian crises, more than 22.2 million people in Yemen need assistance as most are on brink of famine and are suffering from the lack of basic medical services.
Think your friends would be interested? Share this story!