'Double standards: US, UK, France stand by Saudis in Yemen but pose as moral crusaders in Syria'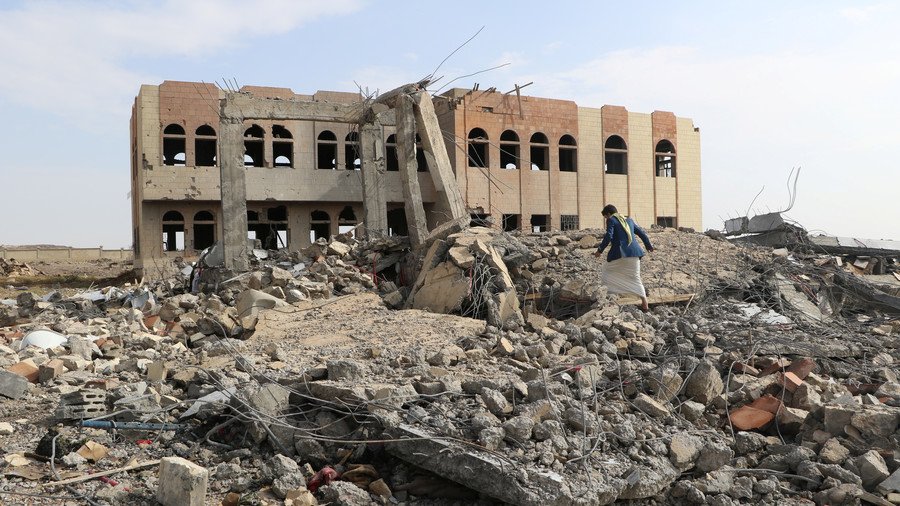 The Syria attack reveals the hypocrisy of the West – which fuels the Saudi-led bombing campaign in Yemen despite documented abuses – but relies on unverified claims to punish Syria, journalist and broadcaster Neil Clark told RT.
As Riyadh's campaign in Yemen enters its fourth year, it has been repeatedly accused by rights groups of civilian casualties during the bombardment. However, in Syria's case, reports of a chemical weapon attack in Douma that are yet to be independently corroborated became the trigger for a coordinated military action, Clark pointed out.
"On the one hand, they are rolling out the red carpet for Saudi leaders and they are supporting, either directly or indirectly, the Saudi bombing of Yemen, which is causing a great humanitarian catastrophe – and how many children has that conflict killed?
"On the other hand, they pose as moral paragons, as moral crusaders when they claim children have died in Syria's chemical weapons attack without evidence," he said.
Clark argued that by continuing its weapons sales to Riyadh, the West "has been feeding and supporting that conflict."
Between March 2015 (the start of the Saudi-led campaign) and February 2018, almost 6,000 civilians were killed and 9,500 wounded, according to the UN Office of the High Commissioner for Human Rights. In its report in March, Amnesty International said it has documented at least 36 coalition airstrikes that appeared to be carried out in violation of international humanitarian law, many of which may constitute a war crime. At least 513 civilians perished in their raids, including 157 children, it said.
"So, on one hand we have got documented evidence of children dying in huge numbers in Yemen through cholera and through bombing. That's true, that's evidence, actually. And the same powers responsible for that are bombing Syria in response to unverified claims of attacks on children in Syria," Clark said. "The double standards are totally, totally off-the-scale."
Just last month, UK Prime Minister Theresa May, US President Donald Trump, and French President Emmanuel Macron welcomed Saudi Crown Prince Mohammed bin Salman, the Gulf country's defense minister and de-facto ruler who is on a charm offensive in Europe and the US.
As a result, the UK, which has provided a steady supply of arms to the ultraconservative kingdom, signed a huge arms deal with Riyadh that will see it purchasing 48 Typhoon jets from British firm BAE Systems.
In his own meeting with bin Salman in Washington, President Trump boasted about $12.5 billion in finalized sales of American weapons to Saudi Arabia. In May 2017, he chose Saudi Arabia for his first foreign trip as president and signed a record $350-billion arms deal.
France, which according to data from the Stockholm International Peace Research Institute (SIPRI) was Saudi Arabia's third biggest weapons supplier between 2013 and 2017, might soon also conclude a new series of deals with the kingdom.
Last week, a French defense minister official told Reuters that France had agreed on a new arms export strategy with Saudi Arabia. According to reports in French media, Paris can soon start selling navy patrol boats and Caesar artillery canons to Saudi Arabia, manufactured by CMN and Nexter respectively.
Think your friends would be interested? Share this story!
You can share this story on social media: