5% chance to survive: Leading Russian oncologist gets cancer, but fights on & runs awareness project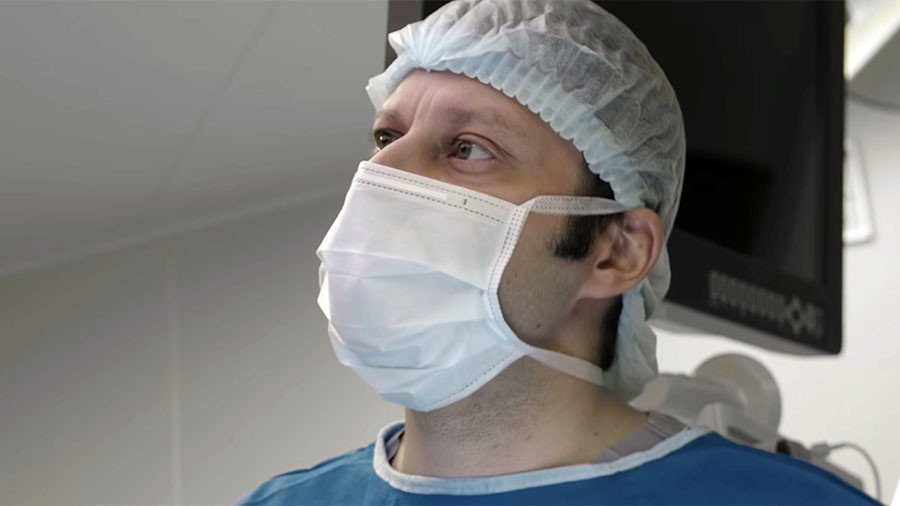 A Russian doctor with a less than five percent chance of recovery from stomach cancer if chemotherapy doesn't work, is making the most of his time, running a project to educate people about the disease.
When Andrey Pavlenko, a 39-year-old oncologist from St. Petersburg, began to feel stomach pains, he assumed it was an ulcer he had developed due to an irregular eating routine — and he went in for a gastroscopy.
The news was devastating — third-stage stomach cancer. Pavlenko, known as one of the best oncologists in Russia, knew his chances, but says he only allowed himself to be upset for a moment. Learning about the cancer – which he is dealing with almost every day – was a little bit easier for him than for the average patient, "but I was quite anxious at first," the doctor told Russian media outlet Afisha.
"The tremor came, although I am very robust psychologically," Pavlenko noted. "And then there came a hot wave from inside my head. But it faded away in a minute."
Life of a man
Having performed at least 2,000 cancer-related surgeries in his career, Pavlenko already knew almost everything about the disease. He knew what his options were and he knew the statistics did not bode well for him. It took just two days to come up with a plan.
Pavlenko committed to dedicating his remaining time to three goals: growing his oncology center, securing his family's well-being, and launching a media effort to help other people navigate the sea of information available about the diagnosis.
With the help of Russian website Takie Dela, which covers pressing social issues, the doctor launched a personal blog titled Life of a Man. There, podcasts, vlogs, and a written diary act as a window into his life with cancer. "Information is a major weapon in the fight against cancer," the blog manifesto reads.
"I felt growing weakness before lunch at the clinic," reads one entry dated April 18. "There was a severe 39°C temperature in the evening. The second stage of chemotherapy is postponed."
Only several days afterwards, on April 23, Andrey writes: "I'm planning to be in the clinic to tackle job-related issues." In an interview for Afisha, he said he is deeply worried about the state of cancer treatment in Russia. Highly-qualified surgeons are now in short supply, and it is sometimes incredibly hard for a postgraduate doctor to become a true professional, Pavlenko said.
"Everyone is learning passively – they simply watch and sometimes assist [in the operations] … Therefore, 90 percent of people who got postgraduate degrees and received surgeon certificates are unable to operate on their own."
In addition, he says, there is a tendency inherited from the Soviet healthcare system – the doctor does not feel much for the patient. For his part, the patient is wary of what the doctor recommends, leading to inefficient medication strategies.
"The project will help build up trust between the doctor and the patient, and also tell [people with cancer] everything about their symptoms, therapy tactics and prognoses," Pavlenko told RT's Ruptly news agency.
Support system
Pavlenko's wife was the first to hear the news of his diagnosis. He broke it to her in their car parked outside a shopping mall.
"She was shocked, she cried, she took it to heart, her arms began to tremble. She isn't OK now, of course, but she is carrying on. She doesn't show it to me, but I know it's hard for her," Pavlenko said.
The couple have three children; two daughters aged 13 and 6, and a one-year-old son. They, he says, are the only thing that can make him cry.
"My older daughter does understand everything, as I told her how serious the situation is," he explained. "She doesn't show her emotions to me too, but my wife says she cries into the pillow on evenings."
Pavlenko began losing his hair after the first round of chemotherapy, but his colleagues decided he shouldn't be the only one. Before he could even shave his own head, all of his co-workers went to the barber shop and shaved their heads in solidarity. They filmed it too, for good measure.
"This was probably the second time in my life when a teardrop rolled down my cheek. It was so… well, I realized they loved me," he said. Pavlenko kept operating, even on the day a serious relapse occurred, leaving him incapacitated for several days. He decided not to do surgeries, but only after making sure his younger colleagues were able to operate without his mentorship.
'There's always a chance'
Given his age, Pavlenko was not considered to be at risk for the disease and would likely not have discovered he had cancer if it had not been for the ulcer.
Pavlenko doesn't regret that he didn't get a diagnosis sooner because his age made it so unlikely. "Sometimes, a cancer patient asks himself: why me, why [did it happen] to me and not to someone else? I never asked myself that question. Because this is a selfish question, and I am not selfish."
He remembers well the two youngest patients he diagnosed.
"The minimum age of my patients was 29, a female, and 32, a male. I remembered them well, especially the young woman – she had a 3-year-old child who she raised alone, and I knew she would die in three months."
READ MORE: $500 blood test promises to detect cancer before it develops
"A male surgeon doesn't cry much," Pavlenko told Afisha, though he did this time, after locking himself in the doctor's lounge. "I was a mature man, but you can't get accustomed to this. It was awful. You can't forget it."
Pavlenko believes the best way to live with cancer is to fight, not only for yourself, but for others — even if the prognosis is dire.
"A patient must know that in a situation like mine, he still has a chance at recovery and for the so-called five-year survivability."
Think your friends would be interested? Share this story!
You can share this story on social media: