RT EXCLUSIVE VIDEO: Villagers film smoke in sky close to capsule landing site in Kazakhstan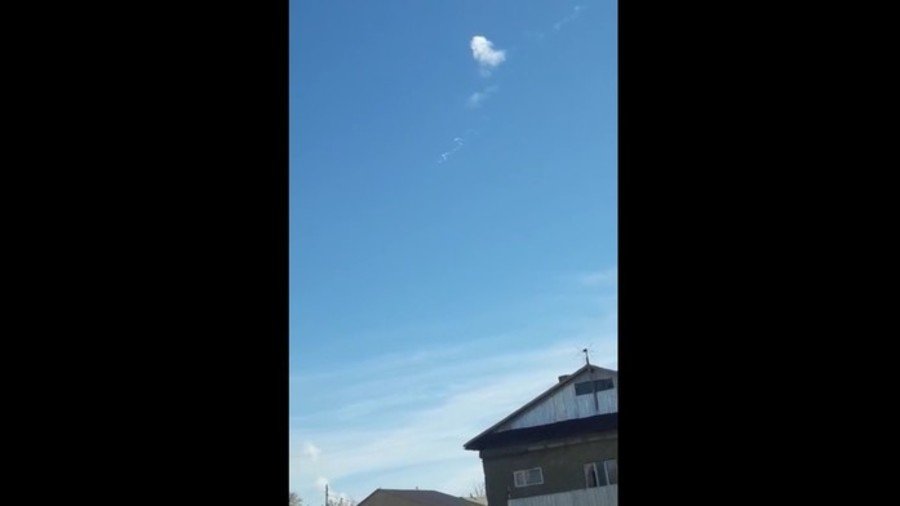 RT has obtained video filmed by locals close to the site where the Soyuz capsule made an emergency landing in Kazakhstan after its rocket booster malfunctioned two minutes after take-off.
The footage, obtained exclusively by the Ruptly video agency, shows smoke in the sky as the villagers look on in surprise, unsure of what is happening.
"What is this?" one of the women filming can be heard saying, while another adds: "Imagine there is a boom now and we all explode." One of the women then explains that it's too hard to look at the sky to see what is going on because the sun is too bright.
Both of the crew members, cosmonaut Aleksey Ovchinin and NASA's Nick Hague, landed successfully about 20-25km from Zhezkazgan in central Kazakhstan.
Ovchinin and Hague have been extracted from the capsule and are being attended to by medics and psychologists after their ordeal.
READ MORE: Soyuz rocket carrying crew to ISS malfunctions during launch
Russia's space agency says that the men are unharmed and in good condition.The Russian government is launching an official probe into the incident.
Think your friends would be interested? Share this story!
You can share this story on social media: