Almost like Columbia: Two crew members dodge death by an inch in botched Russian space launch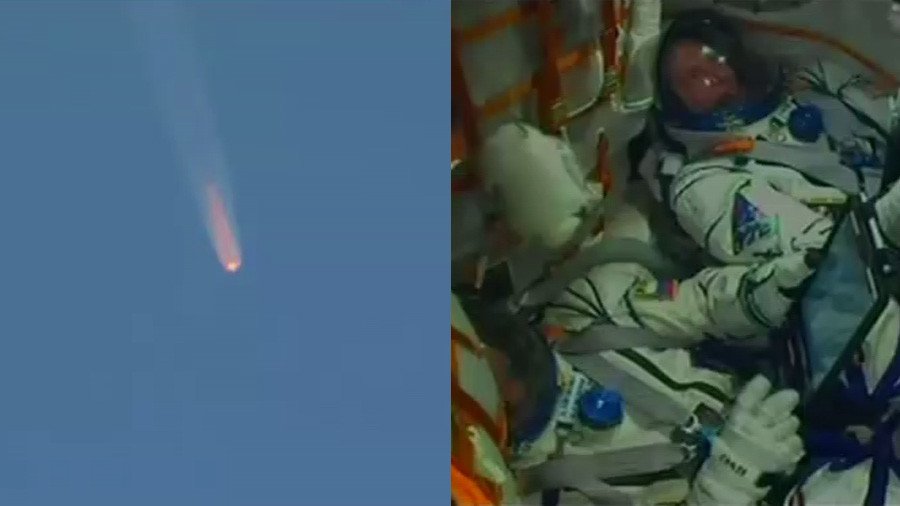 A botched launch of the Russian spaceship Soyuz narrowly avoided becoming the latest fatal space incident on Thursday. Rescue systems managed to save the lives of two crew members and conduct an emergency landing.
The Soyuz-MS-10 spacecraft was meant to deliver Roscosmos' Aleksey Ovchinin and NASA astronaut Nick Hague, members of Expedition 57/58, to the International Space Station (ISS). But 119 seconds after take-off from the Baikonur launch site in Kazakhstan the Soyuz-FG launch vehicle experienced a malfunction and crew rescue protocols were engaged.
The mission went astray just after the booster blocks of the first rocket stage detached. The second stage engines were shut down and seconds later the capsule with the crew members shot away from the rocket, dropped its two other modules, and returned to Earth.
The emergency landing used a more demanding than usual ballistic descent, but the capsule brought Ovchinin and Hague back alive.
Teams are working with our Russian partners to obtain more information about the issue with the booster from today's launch. Watch live updates: https://t.co/mzKW5uV4hS

— NASA (@NASA) October 11, 2018
A Russian search and recovery team was sent to the landing site around 20-25km (12-15 miles) from Zhezkazgan, in central Kazakhstan and brought the survivors back to Baikonur by helicopter. The Russian military also deployed paratroopers in the area to facilitate the rescue mission.
The cause of the Soyuz malfunction is yet to be established. It was the first failure for the Soyuz-FG rocket out of the over 60 launches conducted since 2001.
The Soyuz-MS version of the veteran Russian space capsule has been used since 2016. Boost phase abortion incidents like this one have not happened since an April 1975 launch. Another Soyuz spacecraft mission was aborted before launch in 1983.
The 2003 disaster involving the space shuttle Columbia during its return from orbit is the most recent fatal incident in space exploration.
Think your friends would be interested? Share this story!
You can share this story on social media: