ISS crew made emergency landing in Kazakhstan, both alive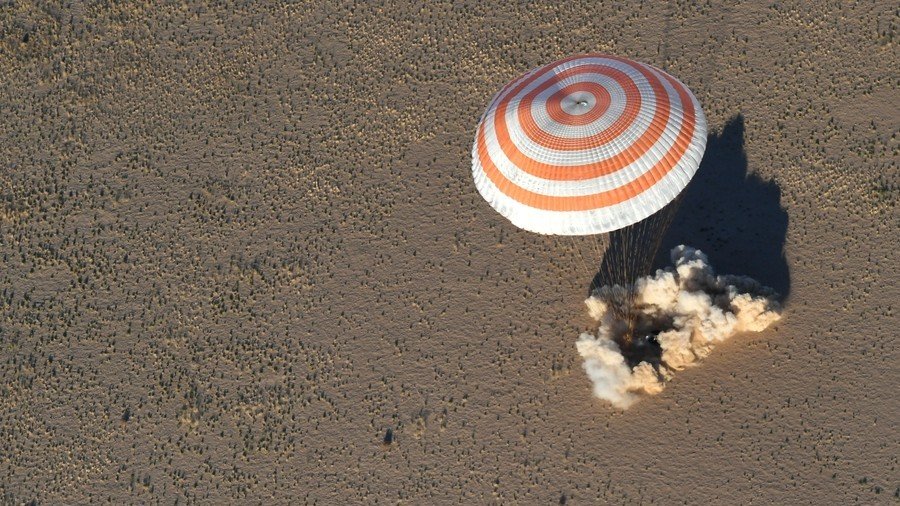 The Russian Soyuz spacecraft has made an emergency landing in Kazakhstan after its rocket booster malfunctioned. Both crew members on board are alive and unharmed.
The spacecraft, carrying cosmonaut Alexey Ovchinin and NASA's Nick Hague, had successfully landed around 20-25km from Zhezkazgan, central Kazakhstan. Four helicopters were sent to pick up the crew members.
"The crew has landed. Everyone is alive," Russian space chief Dmitry Rogozin wrote on Twitter.
NASA confirmed the space capsule's successful landing and said that the crew are "in good condition and in contact."
Russia's national space agency Roscosmos will perform an inspection of the Progress Rocket Space Center, where the Soyuz rocket in question was manufactured.
Rogozin is currently traveling to Kazakhstan to inspect the landing site.
The military was also called in to help with rescue efforts, with army paratroopers being dropped in the area.
"The rescue team had located the crew," sources on the ground confirmed, adding that both neither crew member required medical treatment.
Ovchinin and Hague were extracted from the capsule. They are in "good condition" and will be attended by psychologists, the medics reported.
NASA head Jim Bridenstine said in a statement that the men will be airlifted to the space training facility in the Moscow Region.
.@NASA astronaut Nick Hague and Russian cosmonaut Alexey Ovchinin are in good condition following today's aborted launch. I'm grateful that everyone is safe. A thorough investigation into the cause of the incident will be conducted. Full statement below: pic.twitter.com/M76yisHaKF

— Jim Bridenstine (@JimBridenstine) October 11, 2018
Some reports, however, suggest that the crewmen weren't left completely unscathed. Medics have examined Ovchinin and Hague and concluded that "their condition is not quite well," sources told TASS news agency.
The government is launching an official probe into the accident. President Vladimir Putin and Prime Minister Dmitry Medvedev were briefed on the situation.
"Thank God, the cosmonauts are alive – that is what matters," Putin's spokesperson Dmitry Peskov told reporters.
Think your friends would be interested? Share this story!
You can share this story on social media: