Aliens or solar flare? Questions remain as Sunspot Observatory partially reopens after FBI closure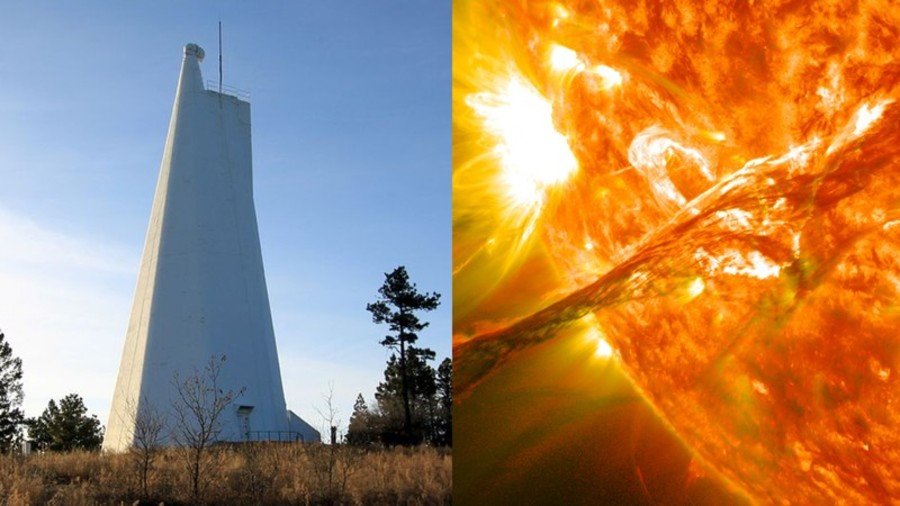 Part of the New Mexico space observatory has reopened, following its sudden FBI closure due to an undisclosed security issue. The secretive shutdown caused some to wonder if the US has discovered aliens… or something far worse.
The visitor's centre of the Sunspot Solar Observatory, which is located near the Sacramento Mountains, apparently no longer faces a security threat and has reopened. Staff at the observatory confirmed to RT that the grounds and visitor's centre are open to the public, however they are still awaiting permission from authorities to reopen the observatory.
The solar observatory – equipped with a one-of-a-kind telescope that produces some of the sharpest images of the sun – found itself making global headlines after its abrupt closure by the FBI on September 6.
The lack of details over the observatory's shock closure sparked a flurry of speculation and conspiracy theories online – and now the internet wants answers: is the government trying to cover up evidence of aliens, imminent solar flares, or even the sun dying?
The FBI has remained tight-lipped, declining to comment or elaborate on the closure and evacuation of the space research facility, as well as a dozen residents living around the site, and a nearby post office.
Otero County Sheriff Benny House detailed to local media just how intense it was having the FBI descend on the observatory. "There was a Blackhawk helicopter, a bunch of people around antennas and work crews on towers, but nobody would tell us anything," he said, adding that the FBI was "secretive" and there "there was a lot of stuff going on" at the observatory.
In a statement to announce Monday's reopening, the Association of Universities for Research in Astronomy (AURA) said the closure was due to a concern "that a suspect in the investigation [of criminal activity at Sacramento Peak] potentially posed a threat to the safety of local staff and residents. For this reason, AURA temporarily vacated the facility and ceased science activities at this location."
AURA added that, "given the significant amount of publicity the temporary closure has generated and the consequent expectation of an unusual number of visitors to the site," additional security services would help patrol the reopened facility. The move comes as curious conspiracy theorists crossed police lines during the closure to take a peek at the hush-hush goings-on taking place at the observatory.
Many have remained skeptical about the sudden FBI closure, while netizens, dissatisfied with the official explanation of criminal activity, have taken their skepticism to social media to try to make sense of the secretive shutdown of the Sunspot Solar Observatory.
Think your friends would be interested? Share this story!
You can share this story on social media: