Pretend jihadist execution art denounced in the Netherlands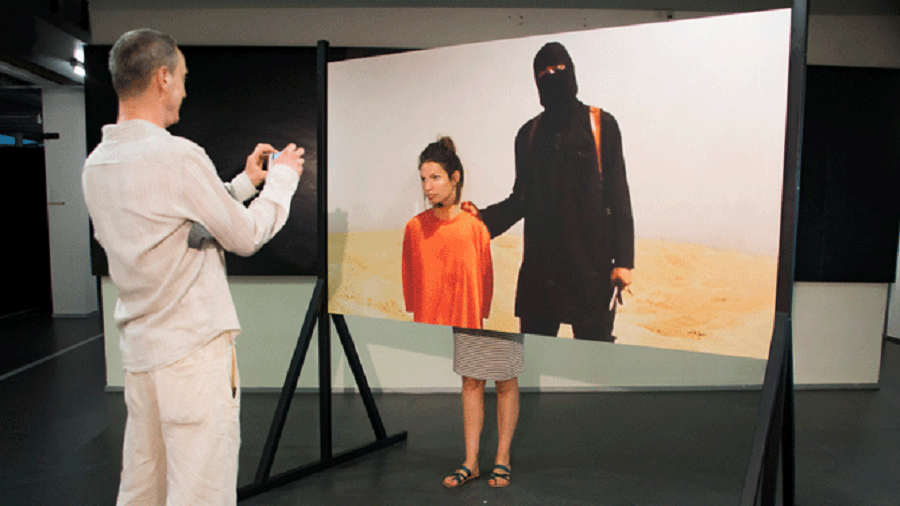 You too can get beheaded by an Islamic State jihadist - at least as part of an installation at a Dutch art festival, which has been denounced by local politicians.
The photo-op is part of an exhibition at the Gogbot art and music festival in Enschede, a city near the Dutch-German border. It includes a life-sized photo of the haunting scene that was the reality for many victims of the Islamic State (IS, also known as ISIS/ISIL) moments before they were executed.
The panel features a masked 'Jihadi John' dressed in black, with one hand holding a knife while the other is resting on a kneeling victim clad in orange. The face of the victim is cut out, making room for a waiting visitor to pose as an IS victim.
READ MORE: British ISIS torturers 'regret' beheadings, say revoking citizenship 'unfair'
Called Phantom Pain, the 'artwork' was created by 22-year-old Anne Bothmer, who said she wanted to give victimized Europeans a taste of what it's actually like to be impacted by IS. Bothmer said she was inspired by the "massive stream of irrational reactions" sparked by "lorries driving into crowds, bombings and shootings."
"As a spectator of these attacks we do not want to experience it, but we want to be part of it. The overarching tone of the messages within the aftermath amplifies a feeling of collective victimization by European citizens," she said. "However, in comparison there were only a few who were really present at the attacks and the rest of Europe only perceived them through cinematic and photographic imagery."
READ MORE: New 'Jihadi John' put on US terror kill list
Almost as soon as the installation was unveiled, local politicians from the Democratic Platform Enschede said they're calling for Gogbot to immediately remove it from the event - as it might offend and upset the refugees from IS-affected countries that have settled in the area.
"This picture of genocide does not belong at this event and needlessly confronts our inhabitants and children with terrorism, human suffering and traumatic experiences which they went through in the country they fled from," DPE wrote in a lengthy FB post.
Think your friends would be interested? Share this story!
You can share this story on social media: