British ISIS torturers 'regret' beheadings, say revoking citizenship 'unfair'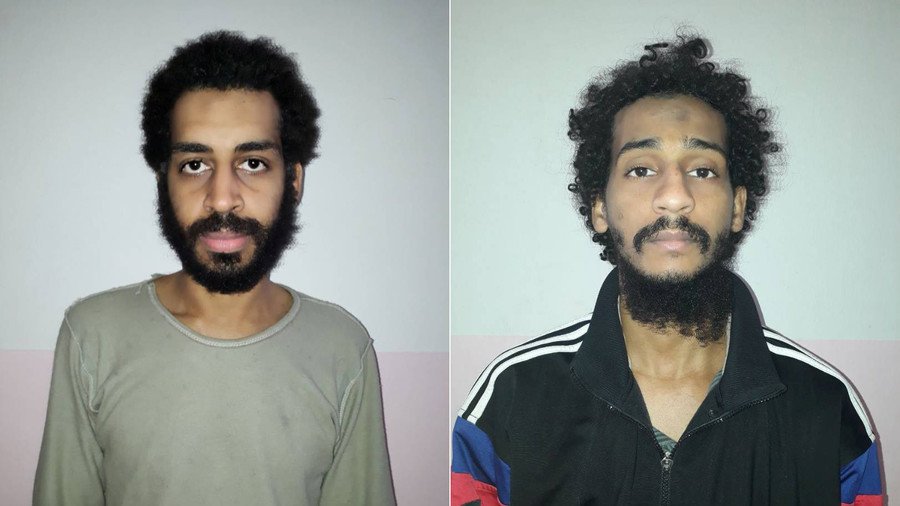 Two British ISIS members have described their brutal execution of hostages as "regrettable." The men also said that the British government's decision to revoke their citizenship denied them the chance of a fair trial.
El Shafee Elsheikh and Alexanda Amon Kotey were allegedly part of a four-member Islamic State (IS, formerly known as ISIS/ISIL) cell known as "The Beatles." The cell became known for its brutal execution videos of hostages, including American journalists Steven Sotloff and James Foley in 2014.
The cell's leader, Mohammed Emwazi, became known as "Jihadi John," and appeared in many of the group's videos, threatening the west from behind a mask. Emwazi was "evaporated"in a coalition drone strike in Raqqa, Syria in November 2015. Another member of the group, Aine Lesley Davis, was arrested in Turkey last year and sentenced to seven years in prison.
Two British militants who belonged to an ISIS cell notorious for beheading hostages in Syria complained Friday that the U.K. revoking their citizenship denies them the possibility of a fair trial https://t.co/YWZsjgVZiZ

— Mikael Thalen (@MikaelThalen) March 30, 2018
Elsheikh and Kotey were captured in eastern Syria in January by the US-backed Kurdish-majority Syrian Democratic Forces. Speaking to the Associated Press, the two men called the British government's decision to strip them of their citizenship "illegal."
"When you have these two guys who don't even have any citizenship…if we just disappear one day, where is my mom going to go and say where is my son," said Elsheikh.
He told AP how he fears the two men might be vulnerable to "rendition and torture," or "being taken to any foreign land and treated in any way and having nobody to vouch for you."
The duo allegedly played a role in the torture and mistreatment of countless prisoners, according to US officials who have interrogated the men since their capture. Elsheikh "earned a reputation for waterboarding, mock executions and crucifixions while serving as an (IS) jailer," according to a statement from the US State Department. Kotey "likely engaged in the group's executions and exceptionally cruel torture methods, including electronic shock and waterboarding."
Elsheikh came to Britain from Sudan when he was a child, and worked as a mechanic in west London. Kotey, who is a Londoner of Ghanaian and Greek-Cypriot descent, converted to Islam in his twenties.
While the men did not admit to being part of the terror cell, they spoke to the AP about the infamous IS execution videos. Kotey said that many IS members "would have disagreed" with the killings "on the grounds that there is probably more benefit in them being political prisoners."
"As for my position, I didn't see any benefit. It was something that was regrettable," he said. Kotey also blamed western governments for failing to negotiate with the terrorist group.
The United States wants the home countries of captured jihadis to repatriate and prosecute them. The British defense secretary however has said they should not be allowed back into the country.
IS arose from the chaos created by the US-led invasion of Iraq in 2003. Exploiting the civil war in Syria, the group declared itself a "worldwide caliphate" in June 2014 and defied a US-led coalition to expand its reach throughout 2015. Its fortunes changed following Russia's 2015 intervention in Syria, however. Its "capital" in Raqqa was liberated by the SDF in October 2017. As of December 2017, IS claimed control of only several isolated pockets of Syrian desert.
Think your friends would be interested? Share this story!
You can share this story on social media: