'Just stand': Army vet launches t-shirts with 'patriotic' message for Kaepernick & Nike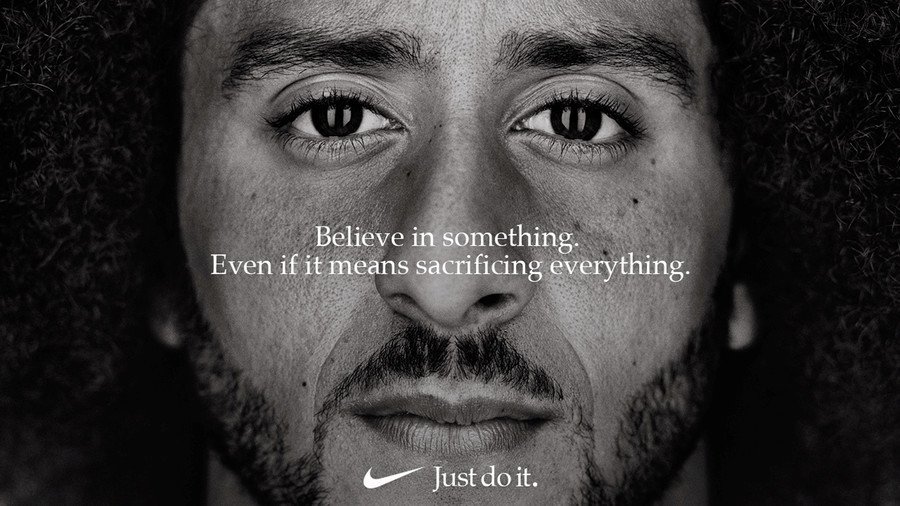 A clothing company founded by US veterans has responded to Nike's collaboration with former NFL quarterback Colin Kaepernick by launching a limited edition of 'Just Stand' t-shirts.
Nine Line Apparel introduced the new line in direct response to sports clothing brand Nike's decision to use Kaepernick, who sparked a wave of hugely divisive NFL national anthem protests in 2016, as the new face of its iconic 'Just Do It' campaign.
Based in Savannah, Georgia, the company which describes itself as "relentlessly patriotic" is selling a range of 'Just stand' shirts for men, women and children. CEO Tyler Merritt told 'Fox and Friends' on Saturday that "they decided to take a stance. This is our stand."
"It is absolutely absurd that Nike would feature Colin Kaepernick as the focus of their latest ad campaign. He has consistently disrespected our nation's flag, values, and military by using the unifying moment of the singing of the national anthem to create political division," Merritt told Savannah Now.
Merritt, who served multiple times in Iraq and Afghanistan, also took issue with the slogan accompanying Kaepernick's ad – "Believe in something, even if it means sacrificing everything."
"The word 'sacrifice' in the military members, it's something severe," he said.
The endorsement deal between Nike and Kaepernick has unsurprisingly proven controversial, prompting some to call for a boycott of the company's products. Despite the backlash, Nike reported a 31-percent increase in online sales over Labor Day weekend compared to the same period last year.
READ MORE:#JustBurnIt: Furious Nike customers destroy sports gear over Kaepernick ad (VIDEOS)
Kaepernick made the decision to kneel during the national anthem at NFL games in 2016 to highlight police brutality and racial inequality in the US. However, many Americans branded the protest as disrespectful to the country and to those who have served in the military.

Kaepernick has been without a club since opting out of his contract with the San Francisco 49ers in March of last year. He is currently taking a case against NFL owners over alleged collusion not to sign him due to his social activism.
You can share this story on social media: