'We see the games they play': Erdogan says Ankara won't bow to US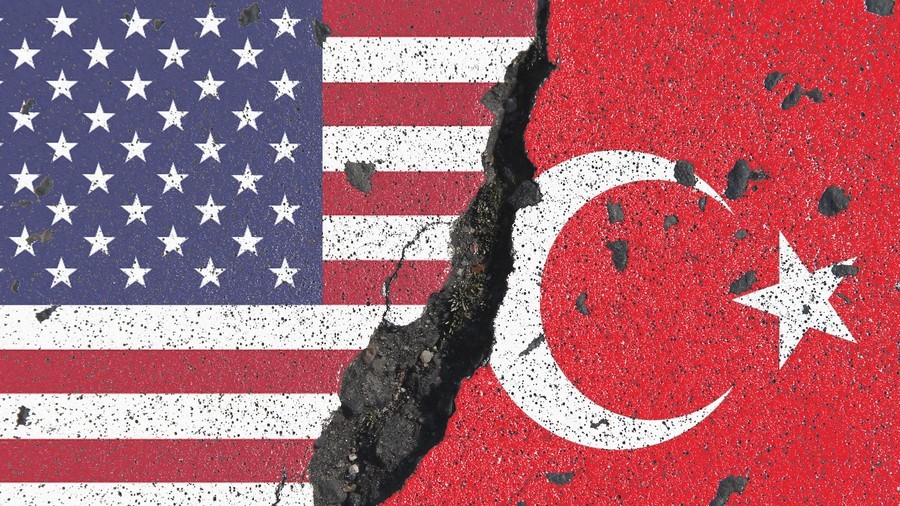 Ankara won't bow before those who set up their "own order by exploiting the world" and make Turkey their "strategic target," Turkish President Recep Tayyip Erdogan said, referring to the US amid a deepening diplomatic rift.
"They were not able to make us collapse and they will never be. If they have their dollars, we have our God," the Turkish president told thousands of supporters of his ruling Justice and Development Party (AKP) who gathered for the Grand Congress in Ankara on Saturday.
Though he didn't name the US directly, his jab was clearly in reference to Washington, which has recently imposed economic sanctions on Turkey. He said that Ankara won't surrender "to those who apparently seemed like a strategic partner" while trying to make Turkey "a strategic target with all of their concrete steps."
READ MORE: Iran, Venezuela & Turkey reveal gold's true value when paper money becomes worthless – analyst to RT
Erdogan said that despite "some people" threatening Turkey with economic restrictions or foreign currency exchange rates, "we are telling them that we see the games they play and we challenge them." Turkey won't bow before those "who set up their own order by exploiting the world," he added.
Ankara and Washington have recently been at odds over the detention of American pastor Andrew Brunson in Turkey. Brunson, accused of aiding the failed military coup in 2016, is facing 35 years in a Turkish prison.
In a heightening of tensions, the US Treasury Department announced restrictions against Turkish Minister of Justice Abdulhamit Gul and Minister of Interior Suleyman Soylu. Later, US President Donald Trump doubled steel and aluminum tariffs on Turkish imports.
The pressure created by Washington against its NATO ally sparked a currency crisis in Turkey with the lira plummeting to a record low against the dollar soon after Trump's announcement of sanctions.
In response to Washington's "deliberate attacks" on the Turkish economy, Ankara announced tariffs on imports of certain goods from the US, including cars, alcohol, and tobacco.
According to freelance political writer Dan Glazebrook, by attacking the Turkish lira, Trump is "pushing the world towards a re-run of the 1997 currency crisis."
"All the conditions which prefigured the 1997 east Asian currency crisis are now effectively in place. All that's needed is a push – which is exactly what Trump has just given," he wrote in an op-ed to RT.
Evgeny Bakhrevsky, director of the Moscow-based Heritage Institute and Middle East researcher, told RT that US pressure on Turkey serves as an additional incentive for Ankara to seek closer ties with other nations, like China, Russia, and European states. "The Europeans will maintain the existing objections to certain Erdogan policies and continue to voice their concerns, but that won't stop them from developing pragmatic cooperation with Turkey," he said.
Apple of Discord: Turks smash their iPhones amid US-Turkey economic spat
Responding to US economic pressure, Erdogan announced a boycott of US electronic products, including iPhones. "They have iPhones, but on the other hand there are Samsungs. We have our local brand Venus Vestel, we will use it," the Turkish president stressed.
Following Erdogan's statement, some Turks have vented their anger at Washington's economic warfare in their own ways. Videos of Turkish people smashing, shooting, and setting iPhones on fire have recently become popular.
Think your friends would be interested? Share this story!