'We are not going to take it sitting down': Trump on detention of US pastor in Turkey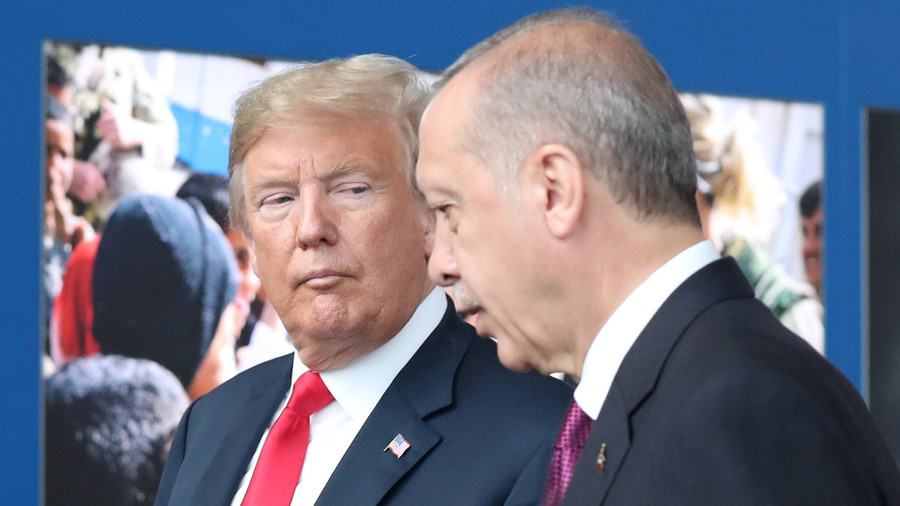 US President Donald Trump has vowed to take new steps to free an American pastor detained in Turkey, stating that "we haven't seen the last of it." Pastor Andrew Brunson has been held by Ankara since 2016.
"They should have given him back a long time ago, and Turkey has in my opinion acted very, very badly," Trump told reporters on Friday. "So, we haven't seen the last of that. We are not going to take it sitting down. They can't take our people."
The US president's remarks followed a ruling by a Turkish court, which rejected an appeal for the release of US Pastor Andrew Brunson.
The man has been detained by Turkish authorities for nearly two years. Brunson is accused of being linked to Fethullah Gulen, a US-based cleric who Ankara has said was the mastermind behind the botched coup attempt in July 2016. Brunson faces up to 35 years in Turkish jail over a number of charges, which include espionage and acting "on behalf of terror groups."
Back in September 2017, Turkey's President Recep Tayyip Erdogan offered the US the opportunity to swap Brunson for Gulen himself. "'Give us the pastor back,' they say. You have one pastor as well. Give him [Gulen] to us," Erdogan said at the time.
The detained pastor has found himself in the middle of a diplomatic row between Washington and Ankara, which greatly escalated last week with Trump placing new tariffs on steel an aluminum imports – a move which has put significant pressure on Turkey. The new restrictions sent the Turkish lira into a downward spiral and prompted a strong reaction from President Erdogan, who said that his country would not "crumble" under the pressure. Turkey, for its part, hiked tariffs on some US goods such as tobacco, alcohol, cars, cosmetics and launched a boycott of US electronic devices, including Apple iPhones.
READ MORE: US driving Turkey to quit NATO, boost business with Russia & China – investment guru Marc Faber
Trump, in turn, promised new sanctions against Ankara if the "wonderful" pastor was not released. "Turkey has taken advantage of the United States for many years. They are now holding our wonderful Christian Pastor, who I must now ask to represent our country as a great patriot hostage. We will pay nothing for the release of an innocent man, but we are cutting back on Turkey!" Trump tweeted on Thursday.
Think your friends would be interested? Share this story!