Street artist transforms Facebook bus adverts with forthright message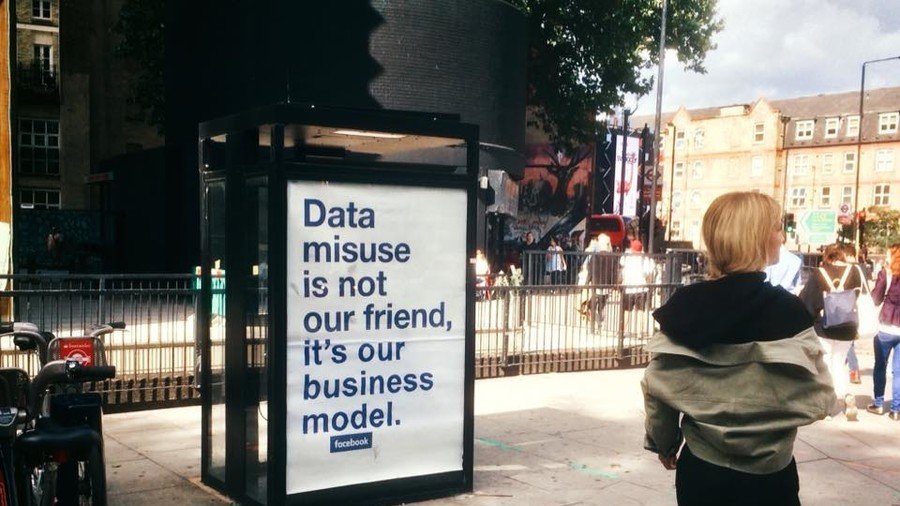 A protesting street artist has altered Facebook's London billboard ads to include some home truths about the social media giant.
The ad campaign was launched in a bid to win back consumer trust in wake of the Cambridge Analytica scandal where raw data from some 87 million Facebook profiles was harvested by the political consulting firm for the alleged purpose of influencing the US election.
READ MORE: Cambridge Analytica formally accused of violating US election laws
The billboards included messages such as 'Fake news is not our friend' and 'Data misuse is not our friend'.

The statements did not go far enough for artist Protest Stencil, however, who decided to enhance the posters with some harsh realities about the corporation's actual motives, as he sees them.
'Fake news is not our friend, it's a great revenue source', one updated billboard read, while another stated 'Data misuse is not our friend it's our business model'.
Photos of the the parody adverts at London bus shelters have been shared online by Protest Stencil, who claimed that the make-over ads were created with "some leftover blue paint."
Facebook has been desperately trying to repair its damaged reputation in the fallout of the Cambridge Analytica data harvesting scandal.
READ MORE: Banning users & throttling posts: Facebook leans on NATO think tank to 'sort out the Russian bots'

It has continued its crackdown on 'fake news' by teaming up with MSM news outlets to fact-check news, and even went as far as partnering with NATO think tank the Atlantic Council for help in monitoring misinformation and foreign interference. The measures have been criticised by some for being partisan and biased.
RT has reached out to the social media giant for comment on the billboards.
Subscribe to RT newsletter to get stories the mainstream media won't tell you.
You can share this story on social media: