NYT reports White House counsel cooperates with 'Russiagate' probe, Trump says he allowed it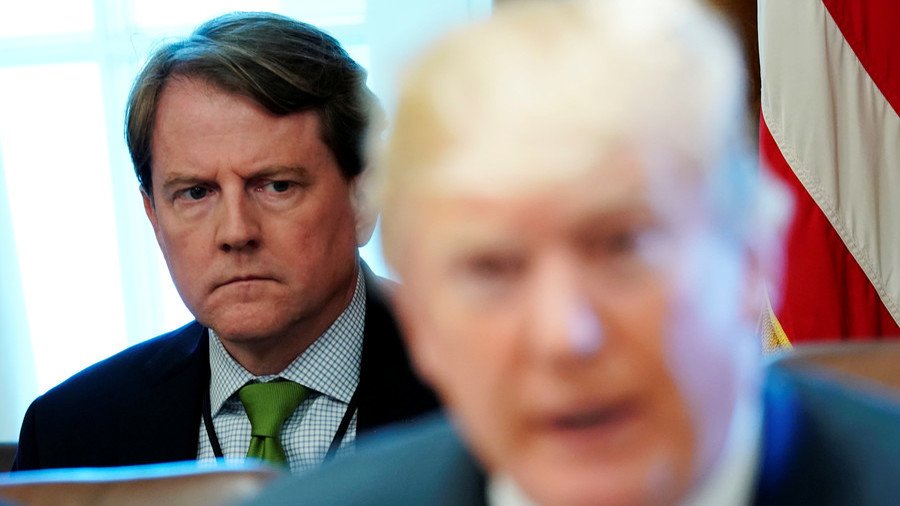 White House counsel Don McGahn has cooperated with Special Counsel Robert Mueller's 'Russiagate' investigation into US President Donald Trump, the New York Times reports. Trump says he allowed it for transparency.
Citing "a dozen current and former White House officials and others," the NYT reports that Donald F. McGahn II has been talking to Mueller about the part of the special counsel probe that deals with Trump's alleged obstruction of justice. Over the past nine months, McGahn has had at least three interviews totaling 30 hours with Mueller, allegedly spilling the beans on some of Trump's actions that would not be known otherwise.
One of those was Trump's supposed attempt to fire Mueller in December 2017, which had also been reported by the NYT and also sourced from anonymous people "familiar with the episode."
McGahn chief reason for approaching Mueller is self-preservation. His and his lawyer's reported plan is to cooperate with the special counsel as much as possible in order to be exempt from suspicion of wrongdoing.
While the NYT seems to portray McGahn's move as a significant development in that it's unusual for a lawyer to share so much with an investigator looking into his client (although McGahn is technically the official presidential lawyer, not Trump's personal one), Trump and the White House say there's really nothing to see here.
The US President tweeted it was his decision to let McGahn, as well as other White House staffers, to talk to Mueller, and provided over a million pages of papers.
I allowed White House Counsel Don McGahn, and all other requested members of the White House Staff, to fully cooperate with the Special Counsel. In addition we readily gave over one million pages of documents. Most transparent in history. No Collusion, No Obstruction. Witch Hunt!

— Donald J. Trump (@realDonaldTrump) August 18, 2018
And White House spokesperson Sarah Huckabee Sanders dismissed the anticipation of the next epic falling-out and the emergence of a new #Resistance hero, saying Trump and McGahn "have a great relationship" and the president appreciates "all the hard work" the counsel has done.
McGahn has been something of a shadow figure, gaining little personal spotlight in the tumultuous atmosphere surrounding Trump's White House. He has, nevertheless, played key roles in the country's judiciary, including Trump's appointment of Supreme Court justice Neil Gorsuch, as well as a number of federal court judges.
If you like this story, share it with a friend!
You can share this story on social media: