Italy to lower defense spending next year, despite Trump's demand for increase
Published time: 26 Jul, 2018 18:46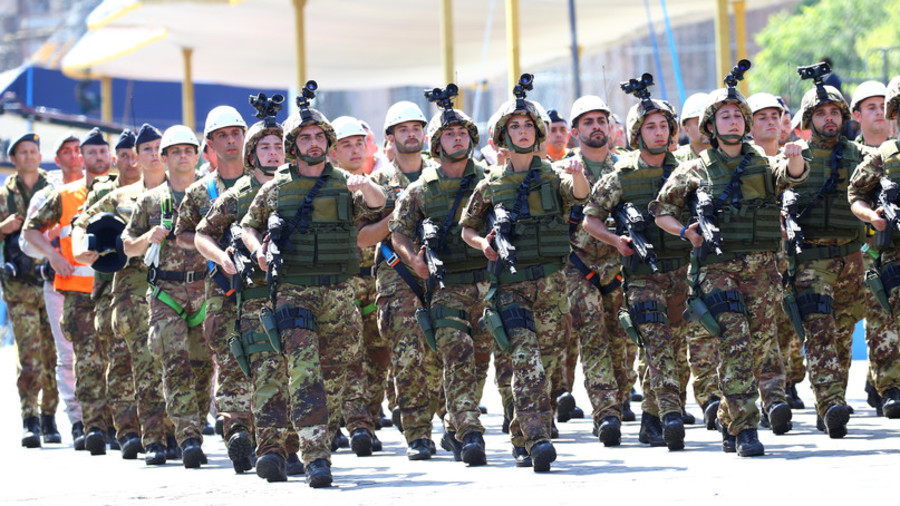 Italy will further lower its defense spending next year, its foreign minister has said. Rome currently spends 1.15 percent of GDP on defense, lagging far behind the two percent benchmark sought by Washington from its NATO allies.
Italy's defense spending is set to slightly fall next year, Foreign Minister Enzo Moavero Milanesi said on Thursday. As of 2018, Italy spends 1.15 percent of its GDP on military.
Minister Milanesi's statement appears to contradict earlier signals sent by the new Italian government. Late in June, Italy's Defense Minister Elisabetta Trenta told the Defense News in an interview that she affirmed to US national security adviser John Bolton that Rome aimed to reach NATO's target spending of two percent of GDP. Trenta, however, did not give any time frame for reaching the envisioned target.
US President Donald Trump has repeatedly urged his NATO allies to boost their defense spending to reach the two percent of GDP goal, outlined by the alliance. The majority of NATO nations are expected to reach that target by 2024 but, at the last NATO summit, Trump demanded the hike in defense spending "immediately." Moreover, the US president has mulled over the idea of actually raising the bar to four percent, while suggesting that NATO allies actually "owe" the US large sums of money for decades of US "protection."
The four percent mark appears to be entirely unrealistic since even the US, which spends almost twice as much on defense than all other NATO countries combined, falls short of it. The White House said that US military spending in 2017 was 'only' 3.6 percent of GDP.
READ MORE: Insults, demands & advice: Trump's whirlwind European tour causes stir online
While the NATO summit was hailed by Trump as a major victory since he supposedly encouraged his allies into "more equal" defense spending. It promptly turned out, however, that not all of them were actually eager to spend more.
German Foreign Minister Heiko Maas said shortly after the summit that, while Berlin understood that "peace and security come at a price," focusing more on "respect [for] the international rules and order" would actually do the trick better than additional spending.
"Four percent [spent] on military spending will, however, not make our world any more secure," Maas said in a tweet.
Like this story? Share it with a friend!