Man beaten to death by mob in India over alleged attempt to slaughter cow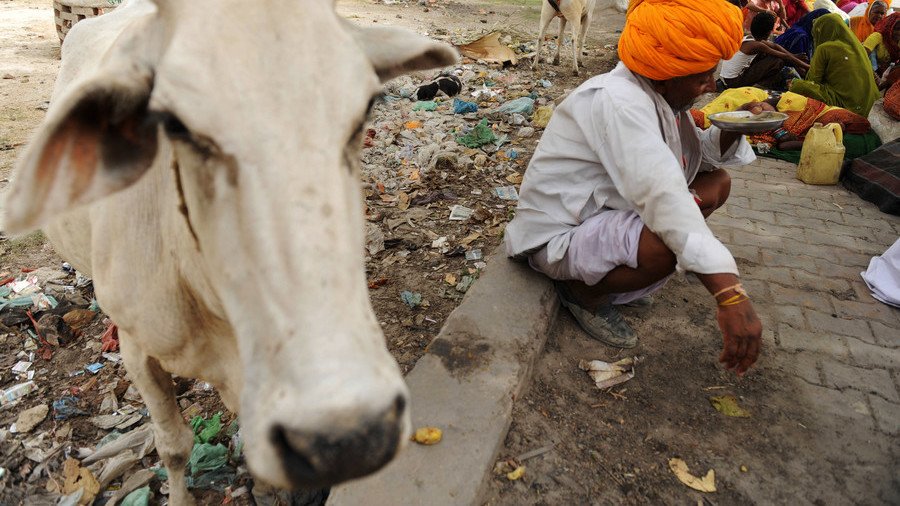 A man was beaten to death and another one injured in India by a mob who accused them of trying to slaughter a cow, video footage shows. The victims' families say the crime was 'cow-related,' but police described it as a scuffle.
The shocking incident took place in a village in Uttar Pradesh state, some 40km from New Delhi on Monday, local media report. The two men – Qasim, 45, and Samayuddin, 65 – were brutally thrashed after an argument with several men from the village.
A video released online shows a man, reportedly Qasim, lying on the ground with his clothes torn in the aftermath of the violence.
WARNING: VIDEO CONTAINS GRAPHIC IMAGES
2 persons were attacked by Cow Terrorists in Hapur, UP . Someone "claimed" that they were carrying cattle (Not slaughtering) and Cow Terrorists attacked them . One man Qasim (45yo), succumbed . One more achievement of Modi GauVernment @Uppolicepic.twitter.com/0L1EArai0j

— Md Asif Khan (@imMAK02) June 19, 2018
The mob reportedly beat Qasim for his alleged attempt to slaughter a cow or a calf. Cow slaughter and cattle smuggling are considered criminal offences under Uttar Pradesh laws.
READ MORE: Muslim man assaulted in northern India for 'being friends' with Hindu woman
"Had we not reached [here] within two minutes, the cow would have been slaughtered," a man says in the video, as translated by NDTV; while another accuser states: "He is a butcher... someone ask him why he was trying to slaughter a calf."
In the video, Qasim pleads for some water but the crowd refuses to give it to him. He succumbed to his injuries. "They did not give him water because he was a Muslim," says Mohammad Salim, Qasim's younger brother, as quoted by the Indian Express newspaper.
The families of both men insist that the incident was related to "cattle." Qasim took around Rs 60,000-70,000 ($820-$1,000) and left home quickly, his daughter-in-law Arshi recalls. "He used to go to neighboring villages to procure and sell cattle, and we thought that it must be regarding his business," she told the Indian Express.
Family members of Samayuddin, who was taken to hospital after the incident, alleged to the Hindu newspaper that the man was cutting grass for his cattle when he was grabbed and beaten by villagers.
In the meantime, police confirmed the incident, but did not s
ay that Qasim's murder was linked to the attempted slaughter of a cow. The official report states that both men "fought with some locals over right of way." After that, they were assaulted and one person died, the police report concludes.
Two people have been arrested in connection with the murder so far. "This has nothing to do with cow slaughter rumors. Police are investigating the matter and we will take strict action against the culprits," Sankalp Sharma, a police official from neighboring Hapur city stated.
India has recently seen a rise in so-called 'cow vigilantes,' who attack farmers and violently prevent cattle from being slaughtered. In May, a Muslim man was beaten to death by an angry mob of villagers in India for allegedly killing a cow. In a separate incident in summer 2017, a Muslim teen was allegedly stabbed to death for carrying beef.
READ MORE: Muslim man lynched in central India for 'slaughtering cow'
Cows are considered sacred by Hindus, who make up almost 80 percent of India's population. According to 2011 census data, Muslims account for 14 percent of the population. In 2017, Human Rights Watch (HRW) called upon the Indian authorities to prosecute 'cow vigilantes,' arguing that Muslims are often targets of attacks, along with members of India's lowest caste.
Think your friends would be interested? Share this story!
You can share this story on social media: