God, steel and World War III: 5 highlights from Vladimir Putin's marathon Q & A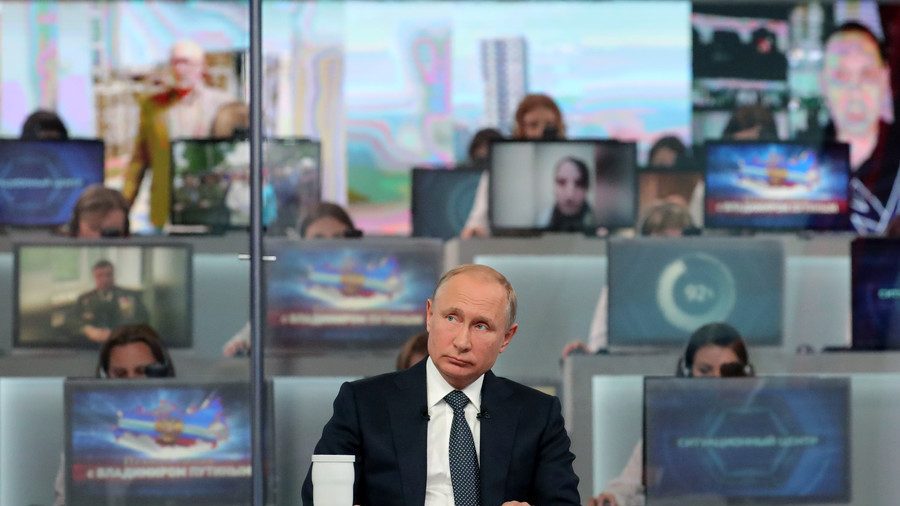 As Vladimir Putin tried to answer as many of the 2 million questions from Russians he could in four and a half hours, personal answers served as interjections to sharp commentary about Russia's complex relationship with the West.
Tariffs are sanctions by another name
"The introduction of US tariffs on steel, on aluminum, not only for Europe but also for Canada and Mexico, are sanctions disguised in other terms," said Putin, noting that both Donald Trump's recent tariffs, and the long-standing sanctions against Moscow over alleged election meddling and Ukraine, both served to advance "American national interests."
READ MORE: Putin teases new arms: Lasers & hypersonic missiles in service, but 'that's not all'
"Did they also allegedly annex Crimea?" Putin asked sardonically of the affected Western allies, reminding them that he had warned them of American overreach as far back as his Munich speech in 2007.
Keep your money at home, Roman Abramovich
"I warned them about this and recommended that our business keeps its capital in Russia," said Putin, when asked to comment about Roman Abramovich's recent problems in acquiring a work visa in the UK, where he has billions locked in assets, including in Chelsea FC.
Putin did, however, say that the West was "making a big mistake," and that such sudden and arbitrary decisions are "counterproductive and damaging for those involved and for the global economy," which would eventually spoil the investment climate in the countries imposing them.
World War III to end modern civilization
"The understanding that a third world war could be the end of civilization should restrain us from taking extreme steps on the international arena that are highly dangerous for modern civilization," Putin said when asked to comment about recent international volatility.
He also gave a spirited defense of mutually assured destruction as a means of avoiding global conflicts since 1945. He called Washington's withdrawal from treaties on anti-ballistic missiles "an attempt to put an end to strategic parity," noting that Russia is responding to US actions with modern arms that will keep that parity intact.
No internet blackout in the offing
"We have no plans to shut anything down," said Putin when asked if social media networks, which are harder to monitor than traditional media, would be blocked in Russia.
Putin did, however, say that he was "nervous" over Telegram's potential to be used as a terrorist communication tool, but he promised a "civilized" solution instead of the haphazard blocking attempts unleashed against the messenger.
Faith in God comes in the hour of need
"Every man is born with faith in God, but different people only begin to realize this at different times in their lives. Every one of even the most confirmed atheists going over the trenches during World War II must have thought about God," said Putin, emphasizing that his own faith is a "personal" issue that he did not feel comfortable discussing in public.