What Putin said when asked 'when he started to believe in God'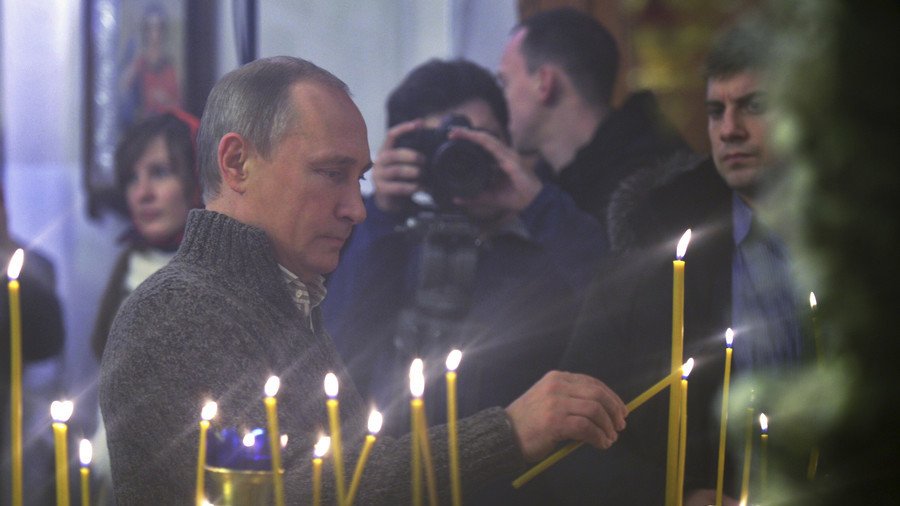 Russian President Vladimir Putin says religion helps people in difficult times, but dodged questions about his own faith during the Direct Line live broadcast with the Russian public.
"This is a very personal question, and it is hard to talk about it in public," Putin said during the marathon Q&A session in a Moscow studio on Thursday, when asked about how long he had been a believer. "In my view, every man is born with faith in God, but different people only begin to realize this at different times in their lives."
The Russian president said he was convinced that even "confirmed atheists going over the trenches during World War II thought about God," adding that while some people were religious throughout their lives, "extreme situations bring out the faith in everyone."
READ MORE: Putin 'nervous' about terrorists on Telegram, but no plan to crack down on YouTube & social networks
While Christianity has undergone a public renaissance since Putin first came to power in 2000, and he has participated in numerous religious ceremonies, the president has always been more reticent on the subject of his own beliefs. Asked by interviewer Larry King during his first term if he believed in God, Putin replied that he "believes in the goodness of mankind."
Like this story? Share it with a friend!
You can share this story on social media: