Duterte pledges to resign...if every woman wants him to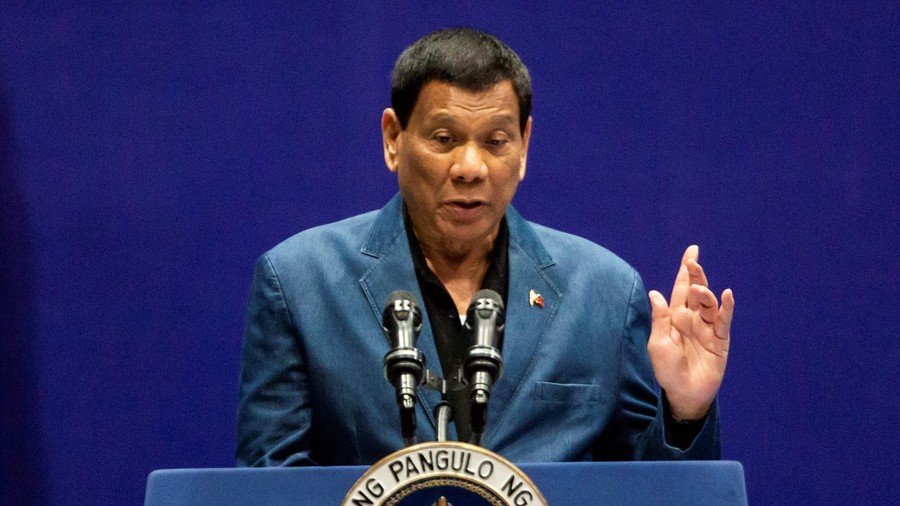 Philippines President Rodrigo Duterte has responded to accusations that he overstepped boundaries when kissing a woman on the lips at a public event, vowing to quit office if enough women sign a petition calling on him to leave.
"If there are enough women to... Well I think if all women here would sign a petition for me to resign, I will resign," the president told a South Korean media briefing on Tuesday.
Duterte explained that Sunday's controversial kiss was just "pure showbiz" acted out in front of thousands of cheering Filipino supporters. Besides, he said, kissing women was his own unique "style" during his 22 years as mayor of Davao City.
"There is nothing wrong in a simple kiss," Duterte said, "during the campaign in my mayorship days, I kiss every woman there, lips to lips."
The controversial kissing incident took place in Seoul on Sunday evening, where the president was addressing the Filipino community living in South Korea. While on stage, Duterte announced he would exchange a book for a kiss from a woman in the crowd. One of the volunteers happened to be a married woman, whom Duterte assured could tell her husband the kiss was just a joke.
The disputed on-stage kiss drew an avalanche of criticism from feminists, saying Duterte felt "entitled to demean, humiliate and disrespect women according to his whim". Commenters also defined the stunt as Duterte's "perverted way" of taunting female critics who had been loudly protesting against him for making questionable comments of a sexual nature.
READ MORE: Duterte makes another bizarre rape 'joke' – this time about Miss Universe (VIDEO)
The 73-year-old leader is famous for controversial and often bizarre remarks. In July 2017, Duterte made a rape 'joke', saying that although child rape was absolutely unacceptable, he would congratulate someone who had "the balls" for raping Miss Universe contestants.
Earlier he had been caught telling his troops that no matter who they raped in the field, he would take the responsibility for their crimes.
"If you raped three (women), I will be the one to admit that it's me," Duterte had said. "It's just work, I have your back."
Like this story? Share it with a friend!
You can share this story on social media: