'It's just work, I have your back': Duterte makes rape joke while discussing martial law with troops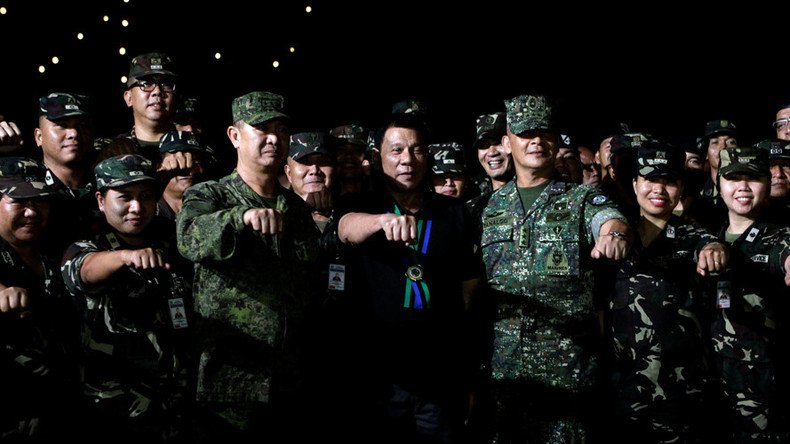 Philippines President Rodrigo Duterte has all but given his soldiers carte blanche in the battle against Islamic State-affiliated Maute fighters, even joking he'd take responsibility if his soldiers violate citizens' rights in Mindanao, including by committing rape.
"I'll be with you all the way. If you go down, I go down. But for this martial law and the consequences of martial law, and the ramifications of martial law, I and I alone would be responsible," Duterte said, while addressing soldiers of the 2nd Mechanized Infantry Brigade of the Philippine Army in Iligan City on Friday.
"If you raped three (women), I will be the one to admit that it's me," Duterte said.
"If you marry four, son of a whore, you will be punched by - this guy," he added while gesturing towards Defense Secretary Delfin Lorenzana.
"It's just work, I have your back."
Iligan City is roughly one hour from Marawi, where Maute and Abu Sayyaf militants have been fighting government forces since Tuesday.
Duterte cut short his visit to Russia to deal with the crisis on his home island of Mindanao in person. He declared martial law on the island and sent special forces in to crush the Islamist uprising.
The Philippines president is notorious for his extremely controversial, off-the-cuff remarks when speaking publicly.
"During martial law, your commanders, you can arrest any person, search any house, no need for a warrant," Duterte said in direct contravention of the Philippines' 1987 constitution.
"[The] rule of law and human rights should prevail in the place or part of the Philippines where the martial law was declared and effective," said the Department of National Defense (DND) in its memo to the Armed Forces of the Philippines (AFP), as reported by local media.
"Any arrest, search, and seizure executed or implemented in the area or place where martial law is effective, including the filing of charges, should comply with the Revised Rules of Court and applicable jurisprudence," it also said.
You can share this story on social media: