Duterte makes another bizarre rape 'joke' – this time about Miss Universe (VIDEO)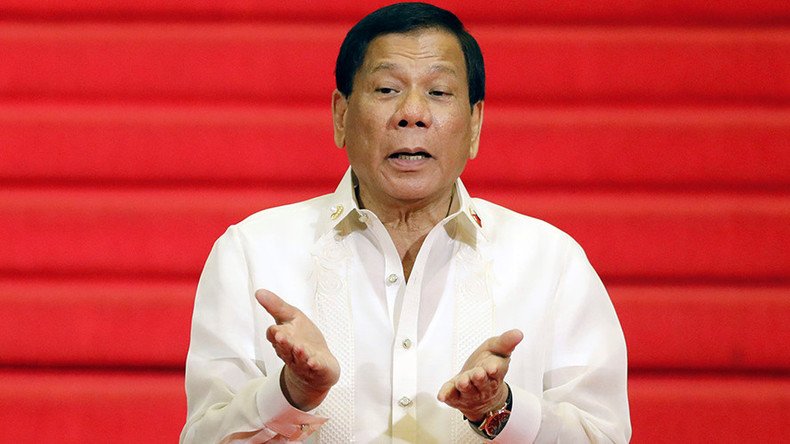 Filipino President Rodrigo Duterte has again ignited controversy after making another 'joke' about women being raped.
Duterte, who has a history of joking about sexual assault, made the comments during a speech in his home city of Davao – this time including a bizarre reference to Miss Universe contestants.
"What I don't like is the rape of children. If you mess with, maybe, a Miss Universe, maybe I would even congratulate you for having the balls to rape somebody when you know that you are going to die," he reportedly said in a mix of Filipino and English.
In May, the president was lambasted by Chelsea Clinton, daughter of former US President Bill Clinton and former Secretary of State Hillary Clinton, after telling troops he would take responsibility for crimes they might commit in the field, including rape.
"If you raped three (women), I will be the one to admit that it's me," Duterte had said. "It's just work, I have your back."
In April last year, Duterte came under fire for a joke about Australian missionary Jacqueline Hamill, who was raped and murdered by inmates during a prison riot in Davao in 1989. Duterte was mayor of the city at the time of the murder.
"I was mad she was raped but she was so beautiful," Duterte reportedly told a crowd at a campaign rally. "I thought, the mayor should have been first."
At the beginning of this month, Duterte threatened to eat the livers of terrorists responsible for the murder and decapitation of two Vietnamese sailors amid fierce fighting in the Islamic State-linked (IS, formerly ISIS/ISIL) insurgency in the southern Philippines.
READ MORE: 'I'll eat your liver': Duterte vows to punish Islamist terrorists for beheading sailors
"I will eat your liver if you want. I will just add salt and vinegar, I will eat it in front of you," he said at the time.
You can share this story on social media: